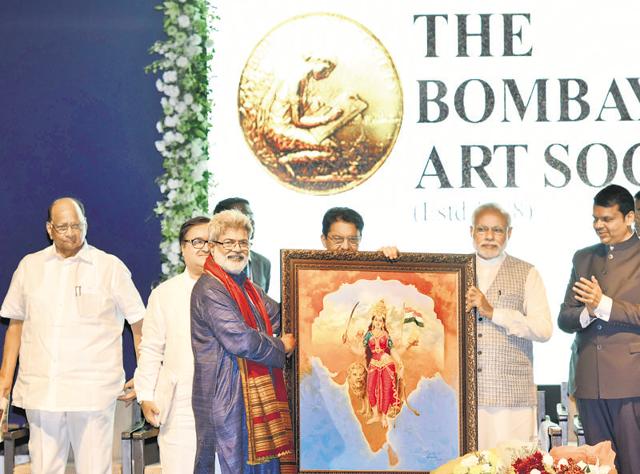 No restrictions should be imposed on art: PM
Prime Minister inaugurates new building of The Bombay Art Society; defines art as ageless, race-region-religionless and timeless
Hindustan Times | By Riddhi Doshi
, Mumbai
PUBLISHED ON FEB 14, 2016 12:59 AM IST
Prime Minister Narendra Modi on Saturday said there should be no borders or restrictions to art.
Addressing a gathering of 400 artists and art patrons in Bandra in Mumbai on Saturday, Prime Minister Narendra Modi defined art as ageless, race-region-religionless and timeless. He added that it is the state's responsibility to promote art and create a conducive infrastructure.
He was speaking after inaugurating a new building of The Bombay Art Society at Bandra Reclamation.
Modi also pointed out that in a state and a city where art works can be found on the walls of every cultured household, it was ironical that it took 125 years for The Bombay Art Society to get its own space.
The society's office would earlier operate from a small room inside the Jehangir Art Gallery. "It is now essential that the society know and think that artwork is not just to decorate the walls with, but is one of the strengths of the society," said Modi.
Sighting a common instance of how most mothers show off their children's skills to mug poems, but hardly ever about their painting skills, Modi urged people to change this attitude towards art. "The foundation of a child's intellectual growth is not in mugged words, but what he has created from within, using his imagination. Art is very important for the over-all development," said Modi.
He also appealed to the art schools to include a visit to art galleries in their list of outings and shared an idea of creating art galleries on railway platforms. "On busy platforms, the space between the two trains could be used as a nice gallery, by creating barricades. This could give a platform to local artists to showcase their work to the people and encourage them to create better."
He also applauded the artists, who have voluntarily taken up on them to beautify railway stations.
Modi also appealed to the IT sector to collaborate with the artists to make art more interactive and accessible to the masses.
"If a small digital video describing the thought process and that of creation of a work accompanies an art work, a lot more people will engage with it, especially the youth," said Modi.
This, he said, is important to keep the human alive in the overtly technological world. "You sometimes fear what if they become robots?"
Linking the art tradition from today to that of the past, Modi spoke of the rich temple architecture of the country. "If you look at the temples carefully, art resides rightfully where God does," said Modi.
In every temple you will see a dance hall and art works that bring alive history and culture. This inbuilt system is a proof of the fact that the art tradition has always been an important part of our cultural tradition."
Present at the event Nationalist Congress Party chief Sharad Pawar, who had sanctioned the land for the society during his regime, also expressed the need for better facilities for the artists.
Chief minister Devendra Fadnavis assured The Bombay Art Society that the state government would be willing to give space to start a branch of the Lalit Kala Akademi, a national body that promotes art.
"We have also decided to up the prizes at our annual art exhibition. A child artist will be awarded Rs10,000 instead of mere Rs500 and others would be awarded prize money from Rs50,000 to a lakh, from the earlier Rs25,000,"said Fadnavis.
Almost two years after the building was ready, The Bombay Art Society, housing three public galleries, auditoriums and library, was finally inaugurated by Modi on Saturday.
Close