State orders release of Godavari water to drought-hit Marathwada
Oct 17, 2015 11:56 PM IST
Decision likely to cause tension between two regions over water distribution
In a move that will come to the aid of the drought-affected Marathwada region, the Godavari Marathwada Irrigation Development Corporation (GMIDC) on Saturday issued orders to release 12.85 Thousand Million Cubic feet(TMC) of water from upstream dams in north Maharashtra to the dry Jayakwadi dam here.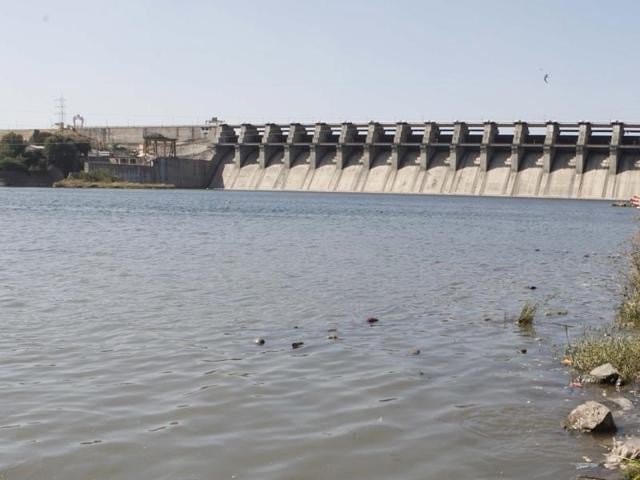 Jayakwadi, one of the biggest dams in Marathwada, has a storage of only 6 %, while the total storage of all dams in this region stands at around 15 %. The reservoir storage in four of the big dams – Majalgaon, Manjara, Lower Terna, Sina-Kolegaon - here is nil.
The excess water will be released from Mula, Pravara, Gangapur and Darna dams in Ahmednagar and Nashik. This is the first time that so much water will be released to Jayakwadi.
However, the decision is likely to lead to friction between the two regions with politicians based in Ahmednagar, Nashik districts up in arms against this move.
Read more: Maha government may join hands with other states for drought relief
14,708 villages in Maharashtra are drought-hit, declares govt
''I'll have to study the order, but it appears that it has been given without any application of mind or without doing homework,'' said senior Congress leader and leader of Opposition in the legislative assembly, Radhakrishna Vikhe Patil. Local district level leaders from across the parties have threatened agitation with some proposing to stand in the river bed to oppose this release of water. The intra state water sharing tension especially over Godavari waters is not new. Since 2012, Marathwada has been facing scanty rainfall with Jayakwadi dam which supplies water to four municipal corporations, Aurangabad's industrial development corporation area and more than 200 villages failing to meet even basic requirements post monsoon. The main reason for the water shortage has been poor water management and planning.
''There has been complete unplanned development upstream of Jayakwadi especially in Nashik and Ahmednagar. When Jayakwadi was built, this upstream water was very much to be a part of its storage. In a year when there is a major crisis in Marathwada, which also does not have any other surface water, such a release of waters,is a must,'' said Parineeta Dandekar, associate co-ordinator, South Asia Network on Dams, Rivers and People.
She added that water use in Nashik and Ahmednagar must also be regulated as the region has high concentration of sugar factories and sugar cane farming that guzzles water. As such there is also a need to strictly monitor how much water is released and how much of it reaches Marathwada. This year with Nashik region also facing water shortage, the directive to release water is going to cause some additional heartburn.