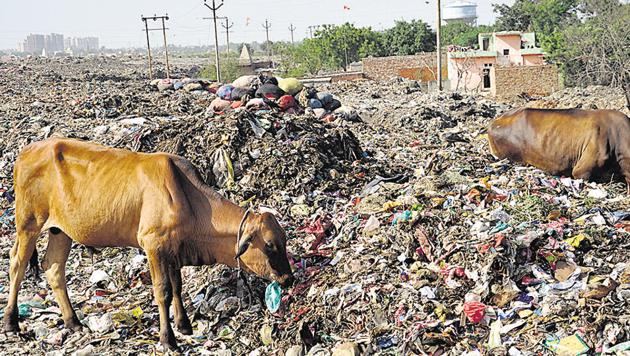 Ghaziabad ranks 351 of 434 cities in 'Swachh' survey 2017
A total of 62 cities from Uttar Pradesh competed in the survey in which Loni town fared better than Ghaziabad
PUBLISHED ON MAY 04, 2017 11:57 PM IST
In the latest 'Swachh Survekshan' ranking issued by the Ministry of Urban Development, Ghaziabad fared badly yet again and secured a dismal 351st spot of a total of 434 cities that were surveyed. In 2016, Ghaziabad ranked 67th among 73 cities.
The rankings, commissioned by the Ministry of Urban Development during January-February 2017, aimed at capturing the improvement in sanitation, primarily based on making cities and town open defecation free and also on the basis of processing of municipal solid waste.
According to the latest ranking, a total of 62 cities from Uttar Pradesh competed and Varanasi, the parliamentary constituency of PM Narendra Modi, emerged as the top city in the state. The remote town of Loni fared better than Ghaziabad and was ranked 331. Modi Nagar was ranked 360. Nearby Hapur district secured the 424th spot.
The city scored a total of 672 with 374 points out of 900 for self-declaration of cleanliness measures (solid waste management including door-to-door collection, processing and disposal, and, open defecation status). Another 101 out of 500 were scored for onsite observation by an expert team and 197 out of 600 on the basis of citizens' feedback.
"We think that the ranking has improved a bit as compared to 2016. Still, I am not convinced about the cleanliness measures taken in the city. We will soon start biometric attendance for staff to ensure that they work regularly. We have also installed GPS in all our 200 vehicles and the process is in the testing phase. This will be put in place within a couple of days and will ensure that solid waste is lifted and dumped properly and vehicles are tracked," said Ashu Verma, city mayor.
The city produces nearly 950 metric tonnes of daily solid waste, which gets dumped at a temporary landfill site near Pratap Vihar, on vacant land, roadside areas and plots.
In a major setback to the scientific solid waste management plant at Dundahera near NH-24, the the National Green Tribunal in December, 2016 had quashed the approval given by the UP pollution control board and also the environmental clearance. The city is yet to get a solid waste management plant.
"It is time that the city gets several solid waste processing plants in different areas. We have identified some locations but the fund arrangement is a major problem," the mayor said.
During the 2017 ranking, conducted by Quality Council of India, 421 assessors were deployed for on the spot assessment of 17,500 locations in 434 cities and towns. Another 55 persons regularly monitored the survey process in real time.
Of the 62 cities in UP, only one made it to the top 50 — Varanasi at 32. Another 25 cities ranked among bottom 50 while 41 were placed among the bottom 100. Gonda in UP secured the last spot in the overall ranking. The first spot in the ranking was secured by Indore in Madhya Pradesh.
Close