Liver retransplant surgery saves life of alcohol addict in Noida
Feb 23, 2017 11:19 PM IST
Liver retransplant is done on those whose transplant surgery has failed. The transplant on Dhinendra Singh was done in 2008. Usually, a retransplant is done within a few weeks of the transplant.
By performing a liver retransplant surgery stretching 16 hours, a group of doctors from a Noida-based private hospital saved the life of a 47-year-old man by using liver parts from a live donor.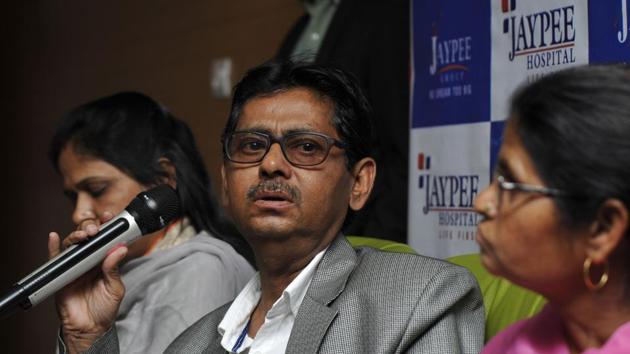 Dhinendra Singh, a resident of Bijnaur, had undergone a liver transplant surgery in 2008, necessitated due to severe alcoholism. His younger sibling Virendra had donated his liver to him then. But his chronic alcoholism disorder continued and his transplanted liver failed.
Singh was treated in Jaypee Hospital in Sector 128 in January. "It was an extremely delicate and complex surgery as the patient had last undergone a liver transplant eight years ago. Due to his alcohol addiction, the patient got jaundice and water started filling inside his stomach. He was slowly slipping into a coma due to liver and kidney failure," Dr Abhideep Chaudhary, senior liver transplant surgeon, Jaypee Hospital, said.
Chaudhary said that a liver retransplant is a rare surgery. "At least 2.5 lakh deaths in India ever year take place due to liver failure and the main reasons are alcoholism, fatty liver and genetic disorder. Liver retransplant is done when a transplant fails. It is a difficult job because the doctors have to use the same veins and tissues that were used in the previous surgery. Usually, retransplant is carried out merely days after the transplant and only in extremely rare cases do we go for a retransplant such a long time after the transplant," Chaudhary said.
Medical experts said that the liver retransplant is a rare surgery because of severe adhesion of veins, distorted structures and newly developed collateral veins of the patient, which make the operation extremely difficult.
Singh was grateful to his sister Kusum, aged 54, who donated a part of her liver, the second donor in the family. "I have already quit drinking alcohol as I have realised its consequences. I am grateful to Kusum and the team of doctors who have given me this new life," Singh said.