Noida: Google Maps does not show Udyog Marg as one-way route, confuses motorists
Updated on Dec 07, 2017 02:14 PM IST
It is also challenging for the police to ascertain whether the driver was using maps or had deliberately attempted to drive on the wrong side.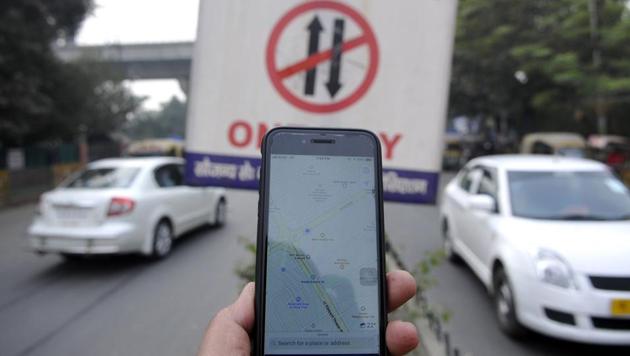 The four-kilometre stretch of Udyog Marg is yet to be shown as a one-way route on Google Maps, due to which commuters following the route are charged and penalised for the traffic violation by the police. The stretch was made one-way on January 23, 2016, to reduce congestion.
Officials said that besides traffic violations, those using the software for navigation also cause jams on the road.
Traffic police said that they have aware of the issue and have acted on it.
Anil Kumar Jha, superintendent of police (traffic), said, "We have already written to Google India to mark the road as one-way so that people who are unaware of the city routes do not incorrectly drive on the wrong side of this road."
He said the route on the map is causing inconvenience to commuters, as they have to pay for the violation. It is also challenging for the police to ascertain whether the driver was using maps or had deliberately attempted to drive on the wrong side.
"We will, again, approach Google India's office in Chennai to follow the issue up seriously. Sometimes, roads get closed because of construction and we send them that information also but they do not update that either," Jha said.
In a statement released to HT by Google India, the company said, "Our data on road networks come from a combination of third-party providers, public sources, and user contributions. Overall, this provides a very comprehensive and up-to-date map, but we recognise that there may be occasional inaccuracies that could arise from any of those sources. While we regularly update the map, the amount of time it takes to update varies. We will look into this specific issue and get it resolved. However, we do provide tools that users can access to speed up the process - users can go through 'Send Feedback' and report one-way restrictions on a specific road through the app, and we will action on them accordingly."
Udyog Marg provides connectivity between industrial areas in sectors 1-11 and sectors 12, 22, 55, 56, 57, 58 and 62, among others. Around 2,000 big and small factory units are located in sectors 1 to 11.
"On Monday evening, I had to travel from Mayur Vihar Phase-3 to Lajpat Nagar via DND Flyway. I was using Google Maps to navigate. However, on entering Udyog Marg, the traffic police imposed a fine of Rs1,000 for violation of the one-way rule. Had the map shown me only one-way movement on this road, I would have taken any other route and saved myself from fine," said Nitin Sharma, a cab driver.
To reduce congestion, the district administration had made Udyog Marg a one-way route for vehicles going from Sector 1 to Sector 11 in January 2016 after consulting the traffic police and the Noida Entrepreneurs' Association. It was made mandatory for vehicles coming from Sector 11 to Naya Bans on the Dadri-Surajpur-Chhalera Road to go via Harola.