Noida homebuyers go on protest march, threaten to gherao CM's residence
Published on Aug 20, 2017 10:46 PM IST
Buyers, along with posters and placards, held the protest seeking the intervention of UP chief minister Yogi Adityanath into the issue.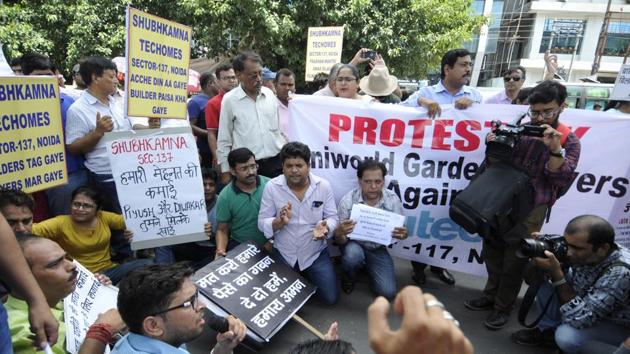 Hindustan Times |
, Noida
Preety Acharya
Homebuyers under the banner of Noida Estate Flat Owners' Main Association (NEFOMA) went on a protest march against builders and authority on Sunday afternoon near Sector 15 Metro station.
Buyers, along with posters and placards, held the protest seeking the intervention of UP chief minister Yogi Adityanath into the issue.
The association members demanded that the CM find a solution for thousands of homebuyers who have been left in the lurch by the builders. They threatened to gherao the CM's residence in Lucknow if their demands go unheard.
Residents also demanded that EMIs and interest of homebuyers be stopped till they are given the possession of their flats.
"People have paid 95% of the cost but still there is no sign of builders handing over the flat. Buyers have to pay the monthly EMI along with the house rent, which is very difficult for a middle-class man to manage," Annu Khan, president of the association, said.
The association members also alleged that builders, in many instances, have violated the approved layout plans and constructed additional units.
"Some officials have been helping builders come up with extra flats illegally and we want such activities to stop. Areas meant for open spaces or parks have been illegally used to build commercial markets in the society or parking zones," he said.
Protesters also demanded that the Real Estate Regulatory Authority (RERA) Bill that was introduced by the Central government should be enforced strictly. They have alleged that the previous state government made amendments to the Act to support the builder lobby.
"Builders are using a poor quality material in constructing buildings, which has resulted in various incidents of ceiling collapsing. There should be an inquiry into these instances and those involved, risking human lives, must be dealt with strictly. Strict action is also required against officials of the authority who are involved in illegal deals with builders," Khan said.
Buyers in various projects of Amrapali and Jaypee have been protesting for days after the builders failed to fulfil their promise of delivering flats on time.
On Monday, the association will hand over a letter addressed to CM Yogi to the city magistrate.
"We want the state government to take strict action against builders who are trying to cheat buyers. Thousands of homebuyers are protesting through various mediums but nothing has been done yet. Builders are doing whatever they want because no concrete action has been taken against them," said Ravi Trivedi, a protester.
Recently, the association members had met city magistrate Mahindra Singh to complain against the builder lobby for charging extra on electricity bills. Members of 12 residential societies had met the magistrate and handed over a letter addressed to power minister Shrikant Sharma.