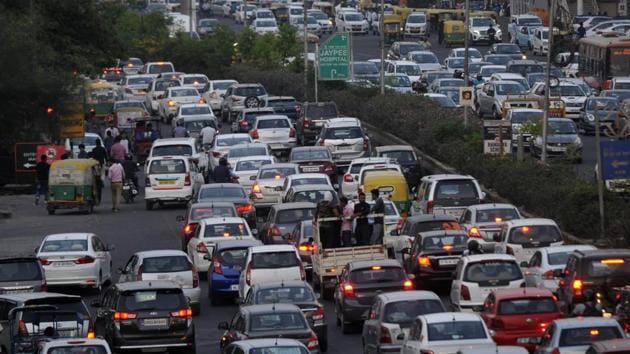 Snarls in Sector 18 slowdown weekends for Noida residents
Use of personal vehicles by visitors to malls, multiplexes and markets adds to issue
Hindustan Times | By Snehil Sinha
, Noida
PUBLISHED ON APR 02, 2018 03:22 PM IST
Weekends turn into a traffic nightmare for Noida residents visiting the Sector 18 market and entertainment hubs in the vicinity, as the area is marred by congestion.
As several malls are present along the Maharaja Agrasen Marg, there is a high footfall of weekend shoppers.
According to regular visitors, the area remains congested during the weekdays as well, due to the presence of several offices in and around Sector 18.
However, on Saturday and Sunday, more people visit the area in the evening. The entire stretch remains congested during the evening peak hour, from 6pm to 9pm, visitors said.
"The Sector 18 market and large malls in this area form a part of the most favourite shopping hub for all Noida residents, due to which there is an increase in traffic during weekends. Visitors park cars along the entire stretch, either to avoid paying for parking at the mall or because they don't get space inside," Rahul Mishra, a regular visitor, who works at a private firm in Sector 16, said.
While regular office goers may use shared or public transport due to fixed timings, most weekend visitors prefer to use personal vehicles, which adds to the congestion. "There aren't too many places to visit in the city. The malls here are great for shopping and I come here often, either to shop or watch movies. However, I always face a wait time of about 20 minutes to half hour to enter the mall, on the road adjoining the mall," Soumya Singh, a resident of Sector 77, said.
Residents regularly complain to the traffic police for action, often resorting to social media platforms. Residents have been posting photos and videos on Twitter asking the police to decongest Sector 18 roads. Following several complaints from residents, the police are planning to adopt measures to regulate traffic in this area.
Officials say that traffic bottlenecks are caused mostly due to wrongly parked vehicles and encroachments along the road. On-road parking is rampant as the mall parking areas fill up fast.
Additionally, vehicles also tend to slow down near the underpass, sometimes to change course. "We will be increasing enforcement on this stretch, especially penalising those parking vehicles in violation of norms and also removing encroachment. The vehicles parked on roads will be towed away," Layak Singh, a traffic inspector, said.
Officials said a service road also needs to be constructed to streamline traffic moving from Maharaja Agrasen Marg towards the Metro station. Unruly auto and e-rickshaw drivers also add to the congestion. Police said they have initiated drives to penalise violators.
Experts suggest the implementation of speed calming measures so that mixing of slow and fast moving traffic along this road does not lead to congestion. Also, lane segregation and setting of barriers near mall entry points would help streamline vehicles waiting to enter. This would also leave road space vacant for moving vehicles.
Close