Spice unit in Ghaziabad sealed for food adulteration
The raid was conducted at a major wholesale market in the city and the adulterants were seized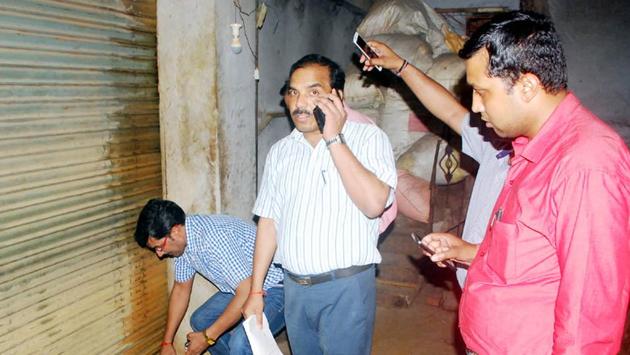 Published on Jun 11, 2017 11:56 PM IST
The Ghaziabad district food department on Friday conducted raids at a major wholesale market and seized adulterants from a spice grinding unit. It sealed another unit as its owner had fled after locking the premises during the raid.
Officials said the raid was conducted at the two spice grinding units on specific information that they use adulterants, which are mixed in spices such as dry coriander and turmeric.
At the first unit, the team found 12 bags, each weighing nearly 50kg, of 'pili mitti' (yellow soil) that was allegedly mixed with turmeric powder.
"Apart from the 12 bags, we found another 32 bags, weighing nearly 50 kg each, of saw dust. This was supposed to be mixed with dry coriander. The adulterants are dangerous and may cause severe health complications," said Ajay Jaiswal, designated officer of the food department.
As officials conducted the raid, local traders initially opposed the action. But the team pacified them after showing them the adulterants and bringing to their knowledge the harmful effects.
"After the first raid, when we reached the other grinding unit, the owner fled after locking the premises. We had specific information that a truck of adulterants had arrived a night before the raid. Since the owner fled, we sealed the unit and informed the local police station. The unit will not be de-sealed till we inspect the material stored inside," Jaiswal added.
Samples from the first unit were sent to a laboratory. The officials said that it was a clear case of adulteration of food items and punishable for up to life imprisonment.
Such instances of unsafe food are sent to the judicial court where the violators may be awarded life imprisonment. Cases of misbranded and sub-standard products are put on trial before executive courts and carry a maximum financial penalty up to Rs 5 lakh.
On May 24, the department had conducted surprise raids at another major market at Ghanta Ghar and lifted more than half-a-dozen samples on suspicion of adulteration in chili and turmeric powder.
The officials said the raid was conducted on specific information about mixing of non-edible colours to the two items.
Close Story