Students put up a visual treat at Amity youth fest in Noida
The three-day Amity Youth Festival is being organised by Amity School of Foreign Languages at the varsity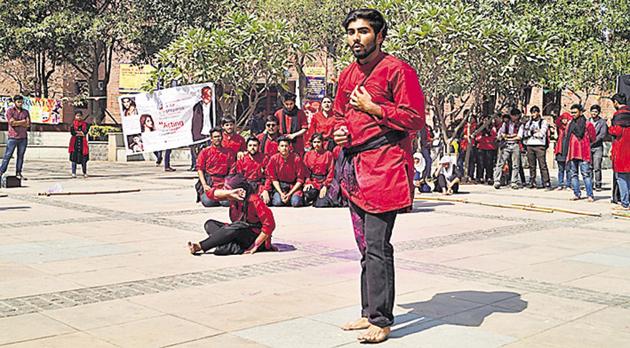 Published on Feb 17, 2017 10:47 PM IST
Over 25 artists participated in a poster-making competition on the second of the three-day Amity Youth Festival organised by Amity School of Foreign Languages.
Artists from Bharti College, Delhi University and Amity University participated enthusiastically to display their creativity and to spread the message of 'one world'.
The participants were judged on the basis of their creativity and how they used their imagination to bring out the theme.
As part of the festival, an air show, organised by Amity Institute of Space Science and Technology and Amity Institute of Aerospace Engineering, had aeronautical and engineering students showcasing their innovation and creativity by designing drones and flyers.
The show saw the participation of more than 50 students who displayed models, including a heavy transport aircraft, triplane, H-shaped tail design planes, trainer and nitro-planes, among others.
Nrityash — a classical dance competition — had 18 teams from across Delhi- NCR participating. Students showcased their talent in several classical dance forms such as Thumri, Bharatanatyam, Odissi, Manipuri and Kathak.
The competition was judged by Saswati Sen, renowned exponent of Kathak. She said all dance performances were a visual feast and reflected the dedication of dancers towards maintaining the sacredness of a tradition, but in a creative manner.
She said the Indian classical dance reflects the glorious past and greatness of the nation and still holds pride of place in the field of dance.
The festival began on Thursday with thousands of students from colleges and institutions across Delhi-NCR taking part in it. The first day of the festival saw over 60 inter-institutional events, competitions and workshops.
On Thursday, a mock parliament was organised by Amity Law School, Centre-II. Justice Iqbal Ahmed Ansari, former chief Justice, Patna High Court, and Tarun Vijay, BJP leader and former Member Parliament, addressed the law students.
Students were divided into four groups — the Lok Sabha, the Rajya Sabha, a stakeholders' meet and a futuristic war cabinet — and were told to discuss various agendas such as demonetisation, foreign policy, personal law and Indo-Pak War.
Close Story