Tension grips Noida village after imam abused, kin roughed up by mob
Eyewitnesses alleged that a mob vandalised a room inside the mosque. Imam claimed that he was abused and his brother was slapped. Though no complaint has been filed by the victims so far.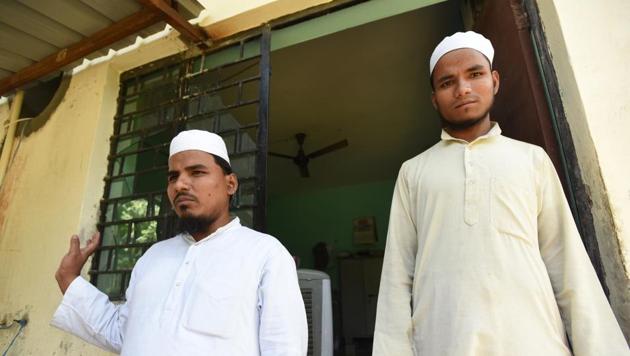 Updated on Oct 03, 2017 11:32 AM IST
Tension gripped Chapproli Banger village near Noida's sector 168 on Monday after the imam alleged that his brother was roughed up by a mob. No complaint has been lodged so far, however, senior superintendent of police (SSP) Love Kumar said security in the village will be increased, if the need arises. A few policemen have been stationed outside the mosque for now.
While some eyewitnesses said the attackers were from the village, others claimed that it could be the work of outsiders. Chapproli Banger village, located two kilometres away from the Noida expressway, is dominated by Rajputs and houses 2,500-odd people, of which some 25-odd families follow Islam.
The village has two mosques — an old one that has been used for generations and another built in 2013 which is also used by Muslim families from the neighbouring areas. The four-year-old mosque attracts a crowd of 2,500-3,000 people every Friday.
"Some villagers have a problem with the new mosque and they want it to be moved. A meeting was scheduled at Suresh Chauhan's residence to discuss the issue on Sunday," said Yusuf Ali, a resident of Chapproli Banger.
Suresh Chauhan and his elder brother Kishan hold influence in the village and often act as mediators in inter-community meetings since there is no panchayat system in Noida villages.
The village meeting was scheduled at 9am, but Muslim residents chose not to attend the meeting after they were reportedly tipped off about a possible attack. "We were told by our sources to avoid the meeting as the issue had flared up and a crowd had started assembling at the baraat ghar (community centre)," Ali said.
Eyewitnesses Shokeen and Mahinuddin alleged that the group vandalized a room inside the mosque and roughed up Saba Hasan, the 19-year-old brother of imam Ziyauddin Al Hussaini. Hasan claimed he was accused of running a madrasa and told to leave the village. "I tried to tell them that it is a masjid (mosque) and not a madarsa but they kept beating me and hurled abuses at me. They called me a Pakistani, a terrorist," he said.
Imam Hussaini said he too was called a terrorist. "I heard some noise and come out of the mosque. I saw a mob of around 100 people who were pelting stones at a small room where my brother and I sleep. They slapped my brother multiple times and called me a terrorist. I had to run for my life," he said.
Both Hussaini and Hasan hail from Araria district of Bihar and had come to Noida a year ago. Eyewitnesses claimed the mob comprised villagers with whom they have lived in harmony for years.
However, Kishan Chauhan claimed outsiders may be involved in the incident. "We don't know who was behind the attack. Some outsiders may have done this. A meeting was scheduled for Monday but Muslims didn't turn up," he said.
Though the victims have refused to lodge an FIR, they said they can identify the people in the mob. They refused to say why they did not want to file a complaint.
"We can identify the men who were responsible for the vandalism. I was born here and so was my grandfather. We have lived in harmony with everyone for years and now, all of a sudden, they want us out of the village," eyewitness Mahinuddin said.
Vedpal Pundir, station house officer of Expressway police station, said a distressed call was received from the villagers about an alleged attack at the mosque. "We received a call from the villagers saying that a few anti-social elements have attacked a mosque in Chapproli Banger. We immediately reached the spot and diffused the situation. However, the miscreants had fled by then." He added that the situation is under control for now. "We talking to the victims so they give us the names of attackers to lodge an FIR," he said.
SSP Love Kumar said additional police force will be deployed in the village, if the need arises. "I am constantly in touch with the Expressway SHO and I am keeping track of the situation," Kumar said.
Close Story
Personalise your news feed. Follow trending topics