Villagers near Greater Noida ask for speed breakers to check animal deaths on roads
Apr 20, 2017 10:15 AM IST
Villagers have demanded traffic signage and speed breakers on the road connecting Kisan Chowk and Dadri Road, to check animal deaths in accidents
Villagers of Khodna Khurd and Kheri Bhanauta have demanded traffic signage and speed breakers on the road connecting Kisan Chowk and Dadri Road, up to Kasna, to check animal deaths due to accidents.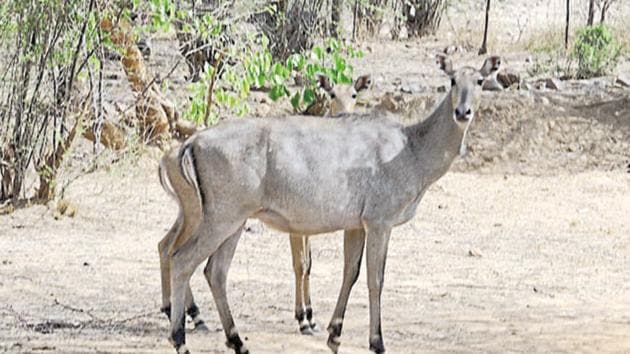 The Surajpur wetland and a forest area are situated along this 130-metre wide road, where Nilgai are found in large number. The area also has a large presence of bulls and injuries and deaths to these animals are reported frequently.
Vikrant Tongad of Kheri Bhanauta and an environmentalist, said, "Motorists speed on this isolated road ramming into Nilgai or bulls. Because of the forest area in the neighbourhood, Nilgais and bulls roam in this area and are hit while crossing the road. Two to three animals are killed every week and many commuters also get injured. Therefore, we demand that a big traffic signage and speed breakers are put in place to avoid accidents."
In March-end, Tongad had written to the forest department after it had set up a small traffic signage that is not visible to motorists driving at high speeds.
"Last week, a Nilgai was killed in an accident and the week before that, a bull was killed after a car rammed into two animals. We have written to the Greater Noida authority as well, demanding action to check accidents," said Tongad.
NC Upadhyay, subdivisional officer (SDO), forest department, Gautam Budh Nagar, said, "Nilgai and bulls are in large numbers in this area as the forest area provides them a feasible habitat. I will look into this issue and get big warning signage put up to alert motorists about the presence of wildlife. We will also communicate with the Greater Noida authority for constructing speed breakers in this area."
Greater Noida authority chief executive officer (CEO) Deepak Agarwal also said he will look into the issue and instruct the department concerned to take action.