Yogi effect? Raids on illegal meat shops, slaughterhouses in Ghaziabad
The Ghaziabad crackdown coincided with similar action in Allahabad where two slaughterhouses were sealed on Saturday night, within hours of Yogi Adityanath taking over as Uttar Pradesh chief minister.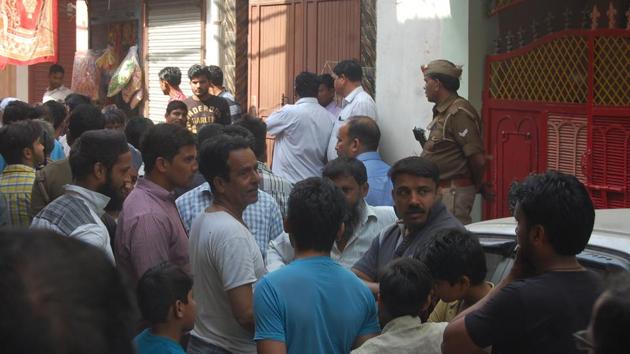 Updated on Apr 18, 2017 12:19 PM IST
An illegal slaughterhouse and dozen-odd meat shops have been closed down in Ghaziabad, officials said on Tuesday, as the administration launched a crackdown shortly after a new BJP government took over in Uttar Pradesh.
The Ghaziabad crackdown coincided with similar action in Allahabad where two slaughterhouses were sealed on Saturday night, within hours of Yogi Adityanath taking over as the chief minister.
Closure of illegal slaughter houses in Ghaziabad was a major issue of the BJP in the recent assembly elections and was highlighted by Yogi Adityanath and BJP president Amit Shah during their campaigning.
The stern measures found support from animal rights groups which have been running a campaign against slaughterhouses which allegedly treat livestock cruelly before they are killed for their meat.

Officials said that illegal slaughterhouses mostly deal with buffalo though some are also known to kill cows and bullocks, banned in UP under the Uttar Pradesh Prevention of Cow Slaughter Act, 1955.
Ghaziabad has a large population of migrant workers for whom beef and buffalo provide the cheapest form of meat compared to the costlier mutton and chicken.
Atul Kumar, sub-divisional magistrate (sadar), Ghaziabad said one slaughter house was sealed in the Kaila Bhatta locality.
Similar operation is also under way in Dasna Gate area, officials said.
"Ten open meat shops were also closed down here. More such illegal establishments are being traced now and we will ensure these are closed down," Kumar added.
UP pollution control board officials said that four units were given permission in Ghaziabad while Hapur has one.
"All the four permission taken up by units are in Dasna, Ghaziabad. Any activity apart from these four will be illegal," an official said.
Loni, one of the areas which houses a mixed population, is also in limelight after BJP's Nand Kishor Gujar won the seat. He is a vocal opponent of cattle trade, slaughter and open meat shops in the residential localities.
"We are holding meetings with administration and police and all such activities are being identified. One such illegal animal bone processing factory was closed down in Ashok Vihar, Loni. The crack down will be hard now," he said.
Animal rights activists said the new government has started taking complaints more seriously.
"Earlier too, there were laws but hardly enforced and such activities were taking place for more than a decade. There have been orders by the National Green Tribunal too," said Ruchin Mehra, an activist of People for Animals.
"On Tuesday, we gave early morning calls to district magistrate who immediately responded... We have identified 17 such places and informed officials."
Several groups including the Hindu Raksha Dal had recently staged demonstrations against illegal slaughterhouses rampant in Ghaziabad.
"We have taken up the issue of slaughterhouses and also called meeting of different departments to ensure that there is a crack down. A magistrate is assigned two police station areas in Ghaziabad and will identify and ensure that illegally operating instances are checked and sealed. Our officials have started the identification and action," said Nidhi Kesarwani, district magistrate, Ghaziabad.
Close Story