Child marriage is a form of human trafficking
Jan 09, 2017 07:07 PM IST
The decision of the apex court to direct the government to clear this conflict between the IPC and the Posco Act within four months will form the basis of the fight against the sexual exploitation of girls in the name of child marriage
The world is fairly governed by reason and so are our institutions and laws. But, how can we permit the rape of a 16-year-old girl by a 40-year old man under the cover of marriage? Recently, the Supreme Court, in response to a PIL filed by the Bachpan Bachao Andolan (BBA), asked the government to protect children from sexual offences in marriage by addressing existing conflicts in the law.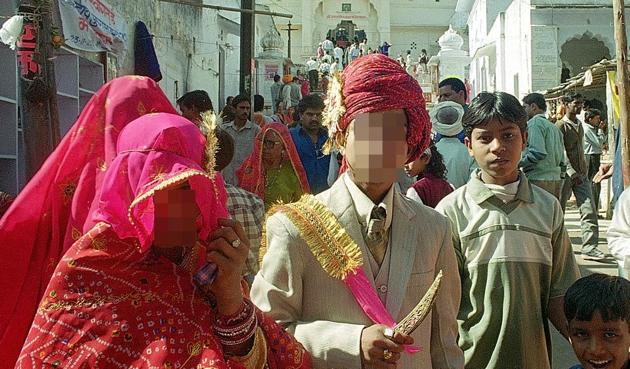 In India, where even today, 47% of children are married before the age of 18 years, this is a big step forward. Child marriage is an understood phenomenon but the effects of it on young girls and their lives are relatively unknown to the public and policy makers. In a meeting with Bal Sarpanchs (elected child leaders) of several Bal-mitra grams (child-friendly villages) of Rajasthan, I came across more girls than boys, which is a sign of good things to come. However, almost all had come to this position because of their refusal to get married before 18.
Stay tuned with breaking news on HT Channel on Facebook.
Join Now
Read: Can sex with wife under 18 years of age be sexual assault, SC asks Centre
Kavita, married at 5, fought mindsets and beliefs as she grew up and today at 16, she is in school. She has ensured all children in her village, regardless of caste and gender, are in school. Asked why she had decided to fight child marriage, she said: "My mind and body were not ready for it." India has the fifth highest prevalence of child marriages in the world, with one in every three child brides being Indian. Moreover, 58% Indian women are married before they are 18, out of which 27% were married before they are 15.
Child marriage perpetuates the exploitation of health, rights and body of adolescent girls. This treatment of young girls is viewed as separate from human trafficking but in reality, it is a form of trafficking. I say this because child brides have no say in the arrangement and become the property of the man they are married to, who more often than not, makes a trade out of the circumstance and innocence of the young girl.
Read: Child marriage is still rampant in India. Here's how we can end it
We also have the highest number of adolescent girls, worldwide, who give birth before they turn 18. Pregnancy remains a major contributor to maternal and child mortality, and to the cycle of ill-health and poverty. Whereas, the benefits of timely or in this case, delayed marriage and pregnancy are many, and come through lower health care cost of the family and more productivity in work.
The Protection of Children from Sexual Offences Act (Posco), 2012, is a special Act formulated to provide for protection of all children, who by definition, is anyone under 18 years, from the offences of sexual assault, sexual harassment, etc., and to enforce the rights of children to safety, security and protection from sexual abuse and exploitation. Section 5 of the Act provides that whoever in a shared household with the child commits penetrative sexual assault is said to have committed aggravated penetrative sexual assault or rape. However, Exception 2 under section 375 of the Indian Penal Code (IPC) states that sexual intercourse or sexual acts by a man with his own wife, the wife not being under 15 years, is not rape.
A conjoint reading of the above provisions makes it apparent that where a child is below 15, even if she is a wife and is subjected to sexual intercourse by her husband, the provisions of Posco will apply, and the same will constitute aggravated penetrative sexual assault or rape and accordingly the Exception 2 to Section 375 cannot be of any recourse to the husband.
Read: Child marriage: Where cure is just as important as prevention
The anomaly arises when the child is under 18 but over 15. A child's status as a child till she is 18, otherwise guaranteed by the State, is denied to her once she is forcefully or otherwise wed.
Moreover, provisions of the Prohibition of Child Marriage Act, 2006, show that a child who has been forced into marriage and in all probability would be subjected to intercourse, only has the option of rescuing herself from the illegal relationship if she applies to the district court through her guardian or next friend, along with a Child Marriage Prohibition Officer.
How can the law expect a young child to find a guardian, usually the one who is responsible for getting her married in the first place, or another individual as a next friend to pull her out of this arrangement?
She has no other recourse against the offences committed against her despite her being a child. However, with the compulsory application of Posco, the child will have a recourse in law, in as much as sexual intercourse committed against her would qualify as "rape".
For years, we have fought for legal deterrents which will be applicable to all children without any exception. The decision of the apex court to direct the government to clear this conflict between the IPC and the Posco Act within four months will form the basis of the fight against the sexual exploitation of girls in the name of child marriage.
The singular aim of the law is to protect the weak and vulnerable, and ensure speedy and effective delivery of justice. The time has come for the government and society at large to unite and ensure the end of child marriage and fulfil the promise of quality education to all children.
Kailash Satyarthi is Nobel Peace Laureate and founder, Bachpan Bachao Andolan
The views expressed are personal