COP 23 at Bonn: India has resolved to be a strong leader on climate action
Updated on Nov 10, 2017 03:00 PM IST
Actions to slow climate change are not only being taken by the national government. State governments, businesses, civil society, and individuals are pitching in to move far beyond commitments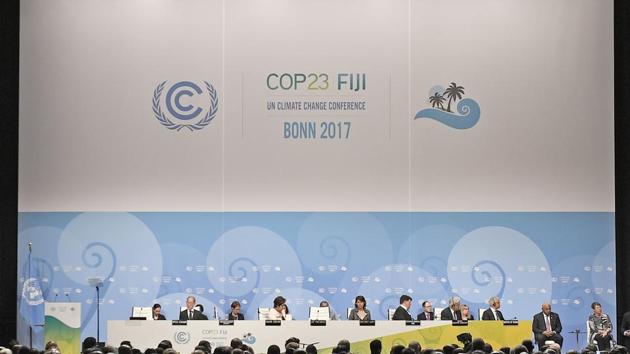 This week a major United Nations gathering on climate change gets underway in Bonn, Germany. Countries around the world will take this opportunity to showcase their actions taken to fulfil pledges under the landmark 2015 Paris agreement on climate change, another step forward under the United Nations Framework Convention on Climate Change (UNFCCC). But it's clear that there is still much ground to cover.
The Emissions Gap Report 2017, an annual audit of national mitigation efforts and the goals presented by countries in their voluntary Nationally Determined Contributions (NDCs), finds that pledges to reduce current emissions are only about one-third of what is needed to prevent catastrophic temperature increases. The NDCs must therefore be the floor, not the ceiling, of ambition.
In India, Prime Minister Modi has already indicated that the country will go "above and beyond" the Paris agreement, with a call to action: "We must leave for our future generations a climate wherein they can breathe clean air and have a healthy life." On his watch, the government has demonstrated a deep understanding of the need to reduce India's dependence on fossil fuels, and a recognition of the severe effects of carbon emission pollution on human health.
But actions to slow climate change are not only being taken by the national government. State governments, businesses, civil society, and individuals are pitching in to move far beyond commitments. India stands on the cusp of an energy revolution. In just the past year, the country added 11.3 gigawatts (GW) of renewable energy capacity, making critical progress towards its ambitious target of 175 GW of renewable energy generation by 2022.
Some of India's largest states, including Gujarat, Madhya Pradesh and Rajasthan are pitching to use renewables to power their growth. The Indian Railways, one of the biggest consumers of electricity in the country is planning a future based on greater energy efficiency. And it's perhaps small and medium sized enterprises, who are championing the cause of a cleaner future for us, fastest and with the most impact. As we speak, 1,100 steel re-rolling mills across the country are adopting a series of technologies to become more energy efficient, aiming to save emissions equal to 3 million cars each year. In doing so, they expect to save Rs. 1,000 crore in a single year.
Meanwhile big gains are also being demonstrated by the khadi handloom sector, with many looking to replace power looms with solar-run systems. At the other end of the spectrum, cities like Indore are pioneering effective waste management systems to deal with plastic, one of the biggest environmental threats facing us today. Recycled plastic is used in road construction and cement factories, reducing thousands of tonnes in emissions and building better livelihoods for those entrusted with keeping our cities clean.
These achievements and commitments are a testament to India's resolve to be a strong leader on climate action. The country has often played crucial role, bringing many countries together to negotiate on a common platform. More importantly, India has made compelling arguments about the need for nations to bridge development and climate action on issues of equity, finance and technology.
The Bonn summit will be crucial in determining the continued success of the Paris agreement. The essential foundation for how international climate action will be advanced was laid in Paris. Now the strategy on how countries can be held accountable to their NDCs and incentivised to do even more will be written in Bonn. This means making significant progress in some of the more knotty issues in international climate diplomacy, such as financing and technology transfers from developed countries to developing nations.
In addition, negotiators will focus on building greater transparency and accountability in how countries report progress and a new five-year cycle to assess progress and spur parties to announce stronger emissions reduction targets. Negotiations will also push for an increase in the level of detail countries provide alongside future targets so the environmental implications can be fully understood.
The Paris agreement created a dynamic process for countries to adopt more aggressive and immediate commitments. I am confident that far from falling short in meeting the goals of the Paris accord, experiences from countries like India will only add to our collective ambition to act on climate change.
Marina Walter is UNDP India Country Director a.i.
The views expressed are personal
Personalise your news feed. Follow trending topics