For those with dementia, Covid's impact has been brutal
Updated on Jun 15, 2021 04:00 PM IST
India has 5.3 million dementia patients. According to the Alzheimer's and Related Disorders Society of India (ARDSI), the number will grow to 7.6 million by 2030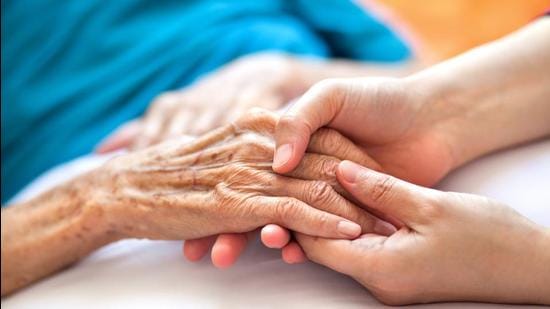 As evening approaches, the 90-year-old lady, living with her son and daughter-in-law, in a Gurugram flat, is restless. She wants to have a bath and her breakfast.
Like most dementia patients, she mistakes the twilight hour for the morning. She has been cocooned all day and as the evening wears on, she gets increasingly fidgety. By night, she is tugging at her diaper and often, it is pulled to shreds.
Her nurse, Amandeep Kaur, is trained to care for those with dementia. Kaur, who has now also been sensitised to dealing with patients during Covid, knows that physical distancing, the sheer burden of not being able to even go to the neighbourhood park for a sit-out in the open, has added to the inertia and the deep sense of isolation.
When the senior citizen (who shall remain unnamed to respect her privacy) demands to be taken to her son's room in the middle of the night, Kaur knows the drill. She has to be patient; she has to be very polite and gentle; she has to put on some music. She turns on the hymns and hopes her patient will calm down and drift into sleep.
Also Read | Amid pandemic, a building called Quarantine in Madhya Pradesh's Sagar
Some nights are difficult. "She recognises her son and daughter-in-law but I have to keep telling her my name. She remembers the holidays she took two to three decades ago, but recent memory is short. She often scolds me and pinches me but my training kicks in and I try to be as gentle as I can. May be she doesn't recognise me because of my mask,'' says Kaur.
Kaur came to the Gurugram flat through Samvedna, an organisation that provides care for the elderly and those with dementia. Archana Sharma and Jayashree Dasgupta, the founder and co-founder, have several clients with dementia. They use to hold group sessions for the elderly battling brain degeneration disorder, for which there is no real cure.
"Our aim is to create awareness for early detection because families come to us really late. Our therapists used to help out with stimulation exercises. We had a café concept, wherein a group would interact and sing together. It helped the families too, to know that there were others in a similar condition," says Sharma. Covid put a stop to such sessions. Says Dasgupta, "We have switched to online sessions but there's concern about being judged by the family and they tend to withdraw.''
India has 5.3 million dementia patients. According to the Alzheimer's and Related Disorders Society of India (ARDSI), the number will grow to 7.6 million by 2030.
Covid has made life tougher and sadder for these millions.
The challenge of care-giving
At Bengaluru's dementia homes, run by the Nightingales Medical Trust (NMT), the pandemic has taken a heavy toll. The Trust, which runs residential care homes, including one for destitutes, had an emergency on its hands after nearly 80 staffers and inmates tested positive during the first wave last year.
"We were able to keep our facilities safe till September last year, but once the lockdown was relaxed and anxious children and relatives under our care started visiting, we couldn't keep the virus out. We lost 13 patients," says Premkumar Raja, co-founder NMT.
It was a heartbreaking experience. The elderly, mostly with Alzheimer's – the most common form of dementia – were quickly shifted to hospitals, but couldn't explain their needs to the doctors. "Age is not on their side. Besides, they have memory issues, and are not able to ask for food or water," explains Raja. Covid wards don't have psychiatrists either, which is what they need.
Within care homes, the staff is trained to understand their needs, but it is still a huge task. Pacing and wandering are amongst dementia's most common symptoms and it is difficult to keep them indoors. It is even more difficult to keep them segregated, because they don't understand the need for isolation.
The emotional and psychological toll
Vipul Rastogi, senior psychiatrist, Medanta Hospital, says, "Patients lack human touch and family support. Dementia requires us to stimulate their brains but instead, the lockdown is making them duller and more agitated."
He finds it harder to soothe his patients online. "Care givers like nurses and attendants are dressed in PPEs and masks and the patients just can't recognise them. Online counselling doesn't go a long distance because the sessions can only happen once or twice a week. The memory gets washed out."
Rastogi has not seen a single dementia patient in the outpatient department since the onset of Covid. Medanta did get one patient, but she needed a surgery, after she fell at home and had a head injury. This Alzheimer's patient contracted the virus and beat it too, but couldn't make it after her surgery.
Unlike this patient, who was living with her daughter, there are many – hundreds of thousands – who live alone because their children are in other cities within India or in far away continents. Anxious children have hired nurses and attendants or simply tied up with centres which take care to the doorstep, or where patients can be admitted.
Both models come with challenges. At Nightingales, keeping the staff motivated has not been easy. They have had to stay within the premises and constantly deal with patients who need to be looked after like little children, from being groomed to being fed to being calmed. "Family members usually bring their parents to us when the memory loss has become apparent and acute and they already have other co-morbidities," says Dr Radha Murthy, also a co-founder of NMT. If wave one was about dealing with rushing staff and patients to hospital after they tested positive, the second surge this year came with its own set up challenges.
"We had to beg the government to help us with vaccinations," says Murthy. Taking those with dementia to vaccination centers is not easy and finally, after a lot of begging and pleading, NMT secured vials for its inmates. The Trust already has doctors and nurses and the vaccine vials came in very handy. It also invested in oxygen cylinders and concentrators.
NGOs across India are struggling to care for those in the sunset of their life, far away from their children, hit by flight and visa restrictions.
In Delhi, Ritu Rana, in charge of HelpAge Foundation's Health mission, spends her days co-coordinating vaccines, medicine packages for the elderly and mental health support for the 300 old-age homes the foundation supports. In Mumbai, Vidya Shenoy, secretary general, ARDSI, can't go to the day care centers for those with dementia because they are shut but she now sends "goodie packages" to their homes. The packages contain little surprises — biscuits and some craft material that'll help stimulate the brain.
"The family members are not always sensitive to the needs of those with fading memories. We train them and tell them to be compassionate," says Shenoy, who tries to engage with her Alzheimer's patients through zoom and video calls.
The phone screen doesn't help. "They try to touch me through the phone. What a hug can do, words can't," she rues.
The financial toll
Not all families can afford to pay for the constant care dementia patients require. According to a 2013 study, published in the Indian Journal of Public Health, the annual cost of caring for a single dementia patient can vary from ₹46,000 to two lakh in urban India and ₹20,000 to 66,000 in rural areas.
In the home for destitute, run by NMT, the co-founders understand the stark reality. Many with dementia are just abandoned on the streets. They can neither remember their address nor their own names, at times. They're taken in and segregated till they test Covid negative. Even after, it is not easy.
The National Programme for Health Care of the elderly under the ministry of health and family welfare is still bridging gaps and trying to set up regional geriatric care centres but the focus on dementia is missing. And as the second wave has shown, those with dementia perhaps need tremendous support and care, with sensitivity and empathy.
Enjoy unlimited digital access with HT Premium
Subscribe Now to continue reading
Topics
Personalise your news feed. Follow trending topics