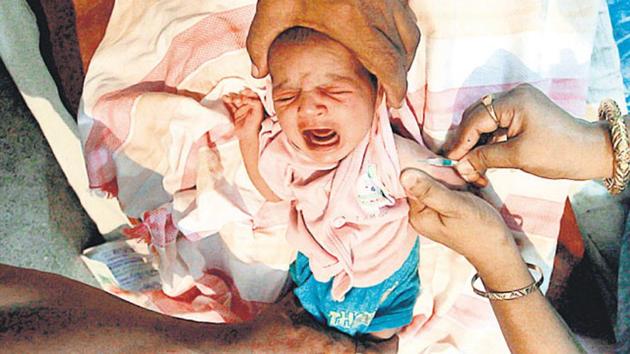 How technology and innovation are improving vaccine coverage in India
It is imperative that we continue to develop innovative ways to improve immunisation coverage — methods that will not only help us reach our ambition of achieving over 90% immunisation coverage by 2019, but also provide a global best-practice model that can be emulated in other countries
By JP Nadda
UPDATED ON FEB 07, 2018 07:45 AM IST
Immunisation is one of the most cost-effective public health interventions and largely responsible for the reduction of mortality and morbidity rates caused by infectious diseases. Vaccines are pertinent for India as we are rapidly developing. India has become polio-free and eliminated maternal and neonatal tetanus with the effective use of vaccines. More so, because of how we made sure that the vaccines were administered to children. The success is due to our Universal Immunization Programme (UIP) — one of the largest immunisation programmes in the world. The activities of the UIP are further supplemented through Mission Indradhanush, a special targeted intervention to reach out to all those children who have been left out of the Routine Immunization (RI) drives or who have only been partially immunised.
However, in spite of our efforts, there are still gaps in the delivery of potentially life-saving vaccines to children, particularly in hard-to-reach areas, where children are most vulnerable. Because of issues related to available infrastructure and/or human resources, the timely distribution of vaccines is sometimes a challenge. Also, programme managers do not have real-time visibility of stock supplies and storage temperature of vaccines across the health centres, leading to erratic distribution and subsequent vaccine stock-outs or overstocking in local health centres.
To address these gaps, in 2015, the ministry of health and family welfare launched an innovative digital platform to monitor the vaccine supply chain in real time. It is called the Electronic Vaccine Intelligence Network (eVIN). The eVIN, which is entirely made in India, emphasises human-centric technology to build a simpler and smarter way for health workers to digitise the routine task of vaccine stock management towards ensuring vaccine availability at all health centres, at all times. As part of it, 'vaccine handlers' are given smartphones with the eVIN app to digitise inventories. At the end of the immunisation day, each vaccine handler updates standardised registers with data on how much of each vaccine was used that day. This information is simultaneously updated in the eVIN app and uploaded directly to a cloud server where it can then be viewed at district, state and national levels through online dashboards.
The eVIN makes available complete information on the amount of vaccines received, used, transferred and discarded at every cold chain point, now geo-mapped and coded, and sends alerts to relevant authorities if the stock position for each vaccine is less than the minimum recommended level, or exceeds the maximum level, is completely stocked-out or nearing expiration date. This access to real-time information on vaccine stocks and flows means officials can make informed decisions, thereby reducing imbalances in vaccine supply management.
This system also helps track the storage temperature of vaccines, which is critical to their efficacy. Low-cost, SIM-enabled temperature loggers are attached to cold chain equipment which updates this information on the eVIN cloud server using mobile network. If the temperature is breached, the logger sounds an alarm and sends email and SMS alerts to responsible cold chain technicians and managers for appropriate action. So far, more than 14,050 temperature loggers installed are helping to ensure the quality and safety of each vial of vaccine. With complete inventory details available on their smartphones, handlers are now able to indent vaccines on time.
Since October 2015, the eVIN has been rolled out in 371 districts in Assam, Bihar, Chhattisgarh, Gujarat, Himachal Pradesh, Jharkhand, Madhya Pradesh, Manipur, Nagaland, Odisha, Rajasthan and Uttar Pradesh. The system, supported by the United Nations Development Programme (UNDP), is currently tracking 300 million vaccine doses in real time and facilitating improved vaccine logistics management at more than 10,505 cold chain points. Within a year of its introduction, vaccine stock availability in implementing states has risen to more than 98% compared to less than 85% earlier and frequency of stock outs has reduced by nearly 75%. With such significant results, the eVIN is to be scaled up to cover the rest of India.
Our efforts towards total immunisation are guided by the universally accepted fact that health and development are intertwined. By streamlining the vaccine flow network, the eVIN is helping to better identify and address the barriers to immunisation in hard-to-reach communities; in turn, it is ensuring equity through easy and timely availability of vaccines. It is imperative that we continue to develop innovative ways to improve immunisation coverage — methods that will not only help us reach our ambition of achieving over 90% immunisation coverage by 2019, but also provide a global best-practice model that can be emulated in other countries.
JP Nadda is Union minister for health and family welfare
The views expressed are personal
Close