How tobacco companies are hiding behind tears and fears of farmers and workers
May 30, 2017 01:05 PM IST
It is false propaganda of the tobacco industry that widespread unemployment would immediately strike tobacco farmers and workers if effective tobacco control measures are implemented
"In Andhra, a separate department for tobacco development is set up to encourage tobacco growing...We must cry a halt to this trend and reclaim these lands for growing food grains."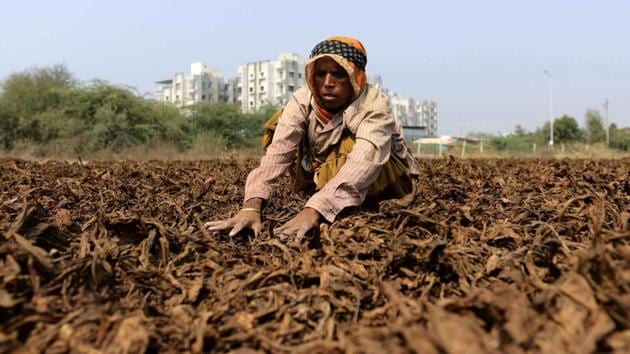 This excerpt from MS Golwalkar's Bunch of Thoughts (1966; page 252) is good advice that tobacco farmers, and policymakers who guide agricultural policies, must heed.
Since November 2016, Delhi has witnessed a hoardings and poster war targeting the Framework Convention for Tobacco Control (FCTC), the Union health ministry and civil society organisations advocating tobacco control. The force behind this colourful and costly campaign is ostensibly a tobacco farmers' association from Guntur, Andhra Pradesh.
A former prime minister from that region, PV Narasimha Rao (also former chief minister of Andhra Pradesh) made a fervent plea in the Lok Sabha that tobacco farmers should switch to alternate crops, as the world was becoming increasingly aware of the harm from tobacco. Venkiah Naidu, as minister for rural development in the AB Vajpayee government, also gave similar advice to Andhra farmers. They were speaking as responsible leaders interested in protecting both the health of the people and future of the farmers.
It is false propaganda of the tobacco industry that widespread unemployment would strike tobacco farmers and workers if effective tobacco control measures are implemented. Even with strong policies and programmes, decline in tobacco consumption would be a gradual process, with falling prevalence partially compensated by a growing population which shores up the absolute number of tobacco consumers. Becoming a tobacco-free society will take a few decades, not few months or a few years. This gives ample time for planned and assisted transition to alternate crops and occupations.
Surveys have shown that many farmers would like to shift to alternate crops, if government and banks can support them during the transition. A study by economists from Dharwad, published in the Current Agriculture Research Journal in 2015, reports possibilities of promoting ginger, chilly, sugarcane and plantation crops as economically viable alternatives. However, this needs market support mechanisms similar to those provided to tobacco ("a pampered crop" as that report describes).
The desire for beedi workers to shift to other livelihoods is even more intense, as employment is seasonal, wages are poor, health is imperilled and working conditions are often exploitative. The women who are engaged in this unrewarding work desire change and are determined that their daughters will not take up this employment. Government should support the aspirations of these women and the young girls in their families by training them as community health workers, allied health professionals and nurses- both to meet the dire shortages in India and to meet the growing gaps in the global health workforce.
Tobacco claims lives of 1.2 million Indians every year, many of them young or middle aged. Around 35% of Indian adults and 14.5% of adolescents consume tobacco in some form. Health care costs of tobacco-related diseases like heart attacks, cancer and chronic lung disease have been shown to outweigh the revenue contributed by tobacco. It also poses many threats to the environment. If India needs to compete with the world in health, sustained economic growth, sports or environmental protection, tobacco cannot feature in our developmental design.
It is painful to see the farmers and their industry sponsors accusing 'foreign-funded NGOs' of being anti-national. If ardently seeking and actively striving for the health and well being of the people, protecting their productivity and reducing tobacco related health care costs, are measures of patriotism, tobacco control advocates are among those who love and serve the nation best. Certainly better than tobacco corporates with substantial foreign investments, where investors trade Indian lives for profits. Worldwide, the tobacco industry hides its hostility to tobacco control behind the tears and fears of farmers and workers. Tobacco farmers should recognise this and play their role in nation building by moving to livelihoods that do not endanger the lives of fellow Indians. Central and state governments should assist them in doing so.
Under the leadership of Sushma Swaraj, India's health ministry fought hard in 2003 to include Article 17 in FCTC, for promotion of economically viable alternate livelihoods. In 2016, the health ministry under the leadership of JP Nadda steered a resolution, listing specific pathways for speedy implementation of this article, at the Conference of Parties to FCTC. A pan- India multi-sectoral effort is now needed to assist the farmers to move to a better future so that other Indians too can have a better future.
K. Srinath Reddy is president, Public Health Foundation of India
The views expressed are personal
"Exciting news! Hindustan Times is now on WhatsApp Channels
Subscribe today by clicking the link and stay updated with the latest news!"
Click here!