Jerusalem embassy: A boost for Israel, but isolation for US
Dec 13, 2017 03:59 PM IST
India should unhesitatingly consolidate bilateral ties with Israel, but it is useful to remain in sync with the broader international consensus on Israel-Palestine issues
In 2005, as India's ambassador to Israel, I presented my credentials, like my predecessors and successors, to the President of Israel in Jerusalem, where the bulk of Israel's government, parliament and judiciary is located. For most official meetings, I had to travel from Tel Aviv, where our embassy is located, to Jerusalem and back. Visiting Indian officials would often, for convenience, stay in Jerusalem, as did Prime Minister Narendra Modi, during his visit in July.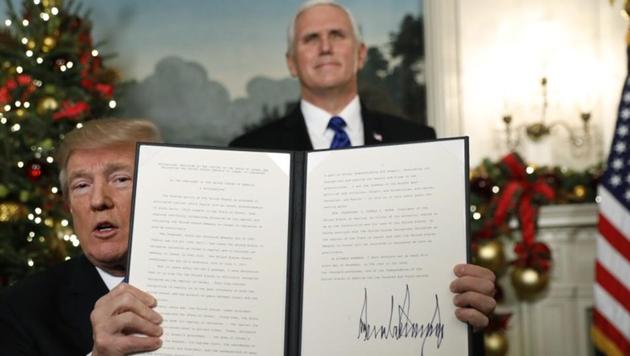 All other countries, which have diplomatic relations with Israel, follow the same practice. Many avoid having meetings with Israeli officials in East Jerusalem. Many, similarly, resist or avoid mentioning Jerusalem in joint statements with Israel.
Stay tuned with breaking news on HT Channel on Facebook.
Join Now
United States President Donald Trump proclaimed on December 6 "that it is time for the United States to officially recognize Jerusalem as Israel's capital", while projecting it as a "long overdue recognition of reality". This, however, is a significant step, from Israel's point of view, in its quest to seek international legitimacy for its claims to the city.
The original UN General Assembly Resolution 181 of November 29, 1947, inter alia creating the Jewish and Arab states in Palestine, had voted to establish a special UN administered international regime for the city of Jerusalem. This came to naught as Arab countries did not accept the division of Palestine, and in the resulting conflict West Jerusalem came under Israel's control, as acknowledged in the armistice agreement between Israel and Jordan signed in 1949. Some international legitimacy to Israel's presence in West Jerusalem was accorded by the May 1950 Tripartite Declaration of the US, UK and France that they would take action, both within and outside the UN, to prevent violation of the armistice lines of 1949. Further, the UN Security Council resolutions 242 of November 22, 1967, and 338 of October 22, 1973, called for withdrawal only to the 1949 lines, after the conflicts in those years.
Those advocating for Israel since the late 19th century, have sought to advance their cause by also gaining support for their aspirations from the dominant global power of the day, recognising the wide differences of opinion between countries on the issue.
British foreign secretary, Lord Balfour, in a letter dated November 2, 1917, conveyed that "His Majesty's Government view with favour the establishment in Palestine of a national home for the Jewish people". This eventually led to the creation of the State of Israel in 1948.
In a letter dated April 14, 2004, to Israeli Prime Minister Ariel Sharon, US President George Bush stated, inter alia, "in light of new realities on the round including already existing major Israeli population centers, it is unrealistic to expect that the outcome of final status negotiations will be a full and complete return to the armistice lines of 1949". Since then proposals for West Asia peace often talk of land swaps to deal with post-1949 facts on the ground.
Trump's proclamation would no doubt be seen as an endorsement of facts on the ground in support of Israeli aspirations. However, he did not go as far as US Congress or Israeli position. The Jerusalem Embassy Act of 1995 of US Congress had spoken of Jerusalem as an undivided city, and capital of Israel. Trump said that he was not taking a position on final status issues "including the specific boundaries of the Israeli sovereignty in Jerusalem, or the resolution of contested borders", and that these were for the parties to work out.
He also did not say that the US embassy would start functioning there immediately. This was possible by renting of some symbolic premise, or converting their present consulate in Jerusalem into an embassy.
While many in Israel would no doubt be gratified by this partial development, it has also placed the US in an isolated position internationally. In the UNSC debate on December 8, all the other 14 council members, including its European allies, the UK and France, opposed the US decision. However, it will play well with Trump's base and strengthen evangelical Christian and Jewish support for him domestically in the US. This would be important as his presidency struggles with continued innuendos of collaboration with Russia during the presidential election in 2016, and lack of any major foreign policy or domestic achievement.
On December 7, the external affairs ministry spokesman, in response to a query, said that "India's position on Palestine is independent and consistent. It is shaped by our views and interests, and not determined by any third country". Keeping our embassy in Tel Aviv has not inhibited us from developing a strong bilateral relationship with Israel. We also established full diplomatic relations only in 1992, when many countries took similar steps after the dissolution of Soviet Union and in the wake of the Oslo Middle East Peace Process. Even as we should unhesitatingly consolidate bilateral relations with Israel, it is useful to remain in sync with the broader international consensus on Israel-Palestine issues.
Arun K Singh is a former Indian ambassador to Israel
The views expressed are personal