No woman judge on triple talaq bench reflects poorly on judiciary
Updated on May 15, 2017 11:56 AM IST
Triple talaq refers to the Islamic tradition that lets men divorce women by pronouncing talaq thrice.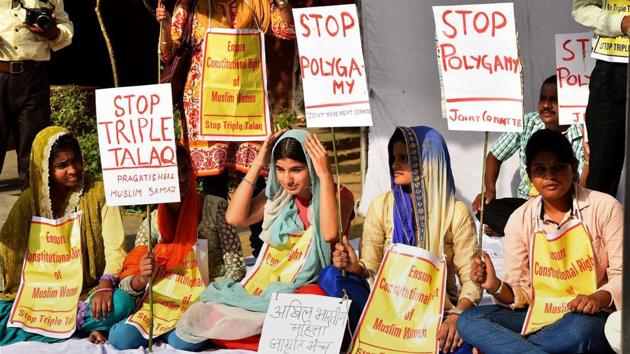 Hindustan Times |
, New Delhi
Ashok Bagriya
Ideally, instead of a 'Manel' – (An all male panel deciding issues vital to women) — it would have been a good idea to have had a woman judge on the Supreme Court bench hearing the contentious gender discrimination issue of triple talaq.
However, that is not the case.
The matter is being heard by a rainbow bench of five judges — who interestingly come from different religious backgrounds — a Sikh, Christian, Parsi, Hindu and Muslim.
These judges have decided to cut short their summer break and adjudicate on the politically sensitive matter — affecting rights of over 90 million Muslim women in the country.
Ironically, the triple talaq case, which is a fight by Muslim women for equal rights, the composition of the bench has unexpectedly thrown up the issue of gender bias in appointment of women as judges and the wish to have a woman helping decide women's fate.
There is also chatter on the social media rueing the fact that there is no woman judge on the bench.
Besides, the top court is also handicapped by the fact that of the 28 Supreme Court judges, only one, — Justice R Bhanumati is a woman.
This brings us to the problem of paucity of women judges in the higher judiciary.
Since Independence, the world largest democracy has had only six women to be appointed to the Supreme Court.
The story in the high courts is no better — here are only 62 women judges out of 611 judges across various high courts.
All of this bringing into focus the urgent need that the composition of judiciary reflects the composition of society.
But to be fair to the Supreme Court — an all-male affair has been responsible for a lot of rulings that have had a significant impact on women's rights.
Take the example of Shah Bano judgment on maintenance for Muslim women, the Vishaka judgment on guidelines to prevent sexual harassment in workplace and the Velusamy case — where the court held that live-in relationships will also come under Domestic Violence Act.
Moreover, the selection of judges for the triple talaq hearing was done with the consent of the judges and we do not know if Justice Bhanumati recused herself from being a part of the bench.
But the point here is — had there been more women judges in the Supreme Court, the possibility of a woman on the triple talaq bench would have been higher.