What makes the Taj one of the world's most extraordinary monuments?
Updated on Oct 15, 2017 09:35 AM IST
It is the complete harmony of all elements in perfect proportion and scale which epitomises its excellence; in concept, in design and execution, it marks the zenith of high art and architecture of the Mughal Empire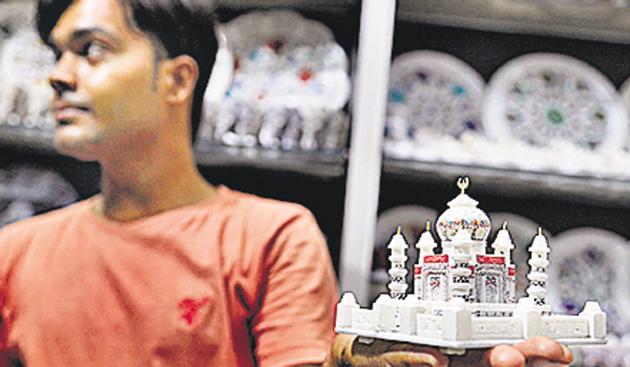 Hindustan Times |
Amita Baig
'Henceforth let the inhabitants of the world be divided in two classes – them as has seen the Taj Mahal and them as hasn't' – Edward Lear..
According to UNESCO World Heritage Center 'the Taj Mahal represents the finest architectural and artistic achievement through perfect harmony and excellent craftsmanship in a whole range of Indo-Islamic sepulchral architecture. It is a masterpiece of architectural style in conception, treatment and execution and has unique aesthetic qualities in balance, symmetry and harmonious blending of various elements.'
For Indians it has always been a symbol of beauty, a 'teardrop on the cheek of time' and on almost everyone's bucket list to visit. As one of our most enduring legacies, its legends are replete with stories of everlasting love immortalised here in stone, of workers' hands being cut off lest they replicate the same elsewhere. Many of these are perhaps apocryphal but have gained currency as India's history evolves in that grey area between empirical fact and legend.
The Taj Mahal and its garden enclosed within high red sandstone walls and flanked by the mosque and mehman khana, was conceived as a composite whole, each component an integral part of the whole. The centrepiece is the immense milky white marble mausoleum, framed by its minarets. The minutely detailed inlays and calligraphy are highly sophisticated and are extraordinary for the amount of detail in each facet.
It is the complete harmony of all these elements in perfect proportion and scale which epitomises its excellence; in concept, in design and execution, it marks the zenith of high art and architecture of the Mughal Empire. The creation of this complex must be seen as an enormous creative and technological advancement merging science, astronomy and creative skills to achieve this imagination.
Today we have a much deeper understanding of the monument; not least that Shahjahan only ever saw the Taj from the Yamuna River as he travelled from Agra Fort by barge; his marble-stepped entrance now lost in the changed landscape, yet the heavily-embellished riverfront wall designed for the Emperor remains. Now the visitor's experience is through the immense gateway, a kilometer away from the mausoleum, walking through what was once conceived of as a garden of paradise replete with fruit, fragrance, shade and running water. While the bagh was lost over a hundred years ago, the lawns and water channels still evoke the planning ideals of the char bagh.
We all know that the Taj is an amalgam of diverse cultural influences, yet wholly Indian in design, implementation and craftsmanship. Undoubtedly the influence of over a hundred years of Mughal rule in India as well as Shahjahan's Rajput lineage and his wife's Persian lineage come together in this stunning edifice. It is certainly the most familiar Indian building in the world; also because of its pervasive commercial exploitation, be it hotels, restaurants or tea packets. It is globally viewed as synonymous with India.
Equally it is interesting to note that the largest numbers of visitors to the Taj Mahal are Indian and include pilgrims of many faiths on their way to or from Mathura or Ajmer. The homage they offer at the crypt of Shahjahan and Mumtaz Mahal is akin to that of a saint or seer; reflective of a deeply spiritual people with a profound respect for their forefathers, untrammelled by reductionist cultural perspectives. Today the Taj Mahal is an oasis in a city overburdened and degraded and much depends on how the city of Agra is reinvigorated. The future of the Taj Mahal depends unequivocally on the future of Agra; one without the other would be diminished.
Amita Baig is a heritage management specialist and representative of the World Monuments Fund in India
Personalise your news feed. Follow trending topics