Why Shiv Sena's blow hot, blow cold tactics towards BJP could backfire
Updated on Jul 28, 2017 10:53 PM IST
Behind Shiv Sena's constant barbs at its ally BJP is the party's pitch for the Opposition space in the state and a fear of being irrelevant on home turf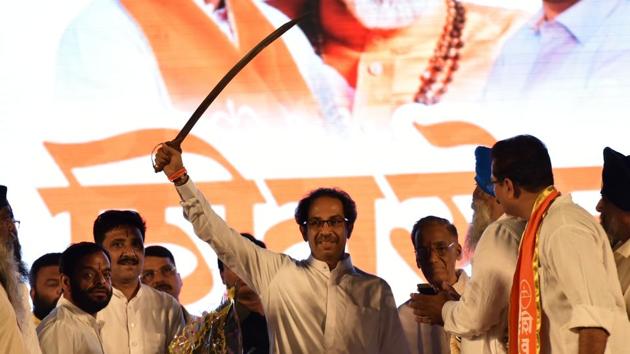 In February, Shiv Sena MP Anandrao Adsul criticised Prime Minister Narendra Modi in Parliament and slammed the BJP as being dictatorial. "If the younger brother has four children and the elder has only two, does the younger brother become elder?" he asked.
Adsul's outburst sums up the reason why the Shiv Sena has been targeting the BJP despite being an ally. The party is squirming in the role of a junior partner after historically having an upper hand in the saffron alliance in Maharashtra. In 2014, the BJP dwarfed the Sena by winning 122 seats in the Maharashtra assembly — the Sena won 63. That election, and subsequent ones to district councils, municipal councils and municipal corporations, shattered the unsaid understanding that while the BJP spreads its wings as a national party, Maharashtra remains the Sena's citadel.
With its space shrinking and its vote-bank under threat, the Sena has been doing what it does best — being the party of rebellion, occupying the vacant space of a strong Opposition, but from the treasury benches.
At the Centre, Shiv Sena chief Uddhav Thackeray has slammed the Modi government on a range of issues – the Ram temple in Ayodhya, border security, demonetisation, and excessive spend on publicity, painting his own party as more Hindutva-oriented, more patriotic and more populist over the BJP. In Maharashtra, the protests have been more nuanced, trying to mould its image as the government's conscience-keeper, an identity that the Sena plans to count on in the 2019 assembly polls.
Thus, the Sena joins the Opposition in bitter criticism of the government, distancing itself from the government on all unpopular issues such as the agrarian crisis, farmers' suicides, or the acquisition of agricultural land for the Chief Minister Devendra Fadnavis' pet Mumbai-Nagpur corridor. This approach also helps the party take credit for every popular move, projecting itself as the only entity within the government that looks out for the larger interest of the people. So, recently, after about a month of joining farmers' groups in protests for a loan waiver, the Sena rushed to take credit when the state announced its Rs 34,022-crore loan waiver package, before taking to the streets again to beat the government on its implementation.
Political analysts are doubtful if this strategy will work; something that even a few Sena members covertly admit. They think, the Sena's blow hot and cold tactic is conveying an image of hypocrisy, and the party and its cadre will be much stronger if Thackeray takes an assertive stand and snaps ties with the BJP.
However, the Sena cannot afford a mid-term poll as it is still not electorally strong in rural Maharashtra. Also, analysts say the party's core leadership is cautious about upsetting a section of its leaders who aspire to remain in power, and worry that walking out of the government might open the doors for some high-profile defections.
Meanwhile, the party is packaging its inability to walk out of the government too as a sacrificial trait, stemming from its deep-rooted commitment to Maharashtra and concern for the state's stability. manasi.phadke@hindustantimes.com
Close Story
Personalise your news feed. Follow trending topics