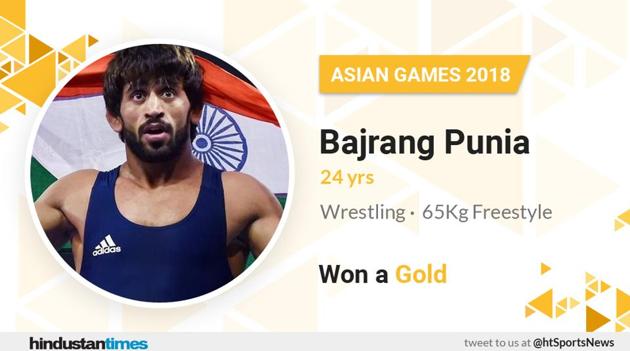 Asian Games 2018, Day 1 highlights: Bajrang Punia wins India's first gold, Chandela-Kumar win bronze - as it happened
Bajrag Punia gave India the first Gold as he won the men's freestyle 65kg final, by defeating Japan's Takatani Daichi. Pawan Kumar faced Uitumen Orgodol for the bronze medal in the men's freestyle 86 kg category but was unsuccessful. Sushil Kumar suffered a shock defeat in his first bout against Bahrain's Adam Batirov as there was no swiftness in the veteran's movement and now, his fortunes hinge on the progress of Batirov. India got off the mark on the first day of the Asian Games 2018 as the shooters - Apurvi Chandela and Ravi Kumar - bagged bronze in the 10m air rifle mixed team event. (FULL ASIAN GAMES 2018 COVERAGE)
Hindustan Times, New Delhi | By Manish K Pathak & Shayne Dias
UPDATED ON JUL 25, 2019 06:27 PM IST
21:04 hrs IST
Close of Day 1
That's all from our side today, thank you so much for joining us! Do join us tomorrow for more live coverage.
20:46 hrs IST
Pawan loses hard-fought match
Pawan fought hard but he could not outdo Orgodol, who triumphed 8-1.
20:37 hrs IST
Pawan Kumar in action
Pawan Kumar is facing Uitumen Orgodol for the bronze medal in the men's freestyle 86 kg category. Can he go the distance?
20:33 hrs IST
Stat attack
Bajrang Punia has become the fourth Indian wrestler to win a gold in the city of Jakarta. The previous three came in 1962, two in Freestyle and one in Greco-Roman. The winners? Maruti Mane, Malwa Singh and Ganpat Andhalkar.
20:11 hrs IST
India start hockey campaign with win
The Indian women's hockey team has registered a thumping 8-0 win against Indonesia in their first match at the Asian Games. What a performance that was!
20:00 hrs IST
Punia delivers on promise
Before the Asian Games 2018, Punia had spoken to HT and this is what we had to say: "Last time we had medals in Asian Games, this time our aim is to bring more medals. It would be good if we get two to three gold in wrestling, last time there was only one."
19:55 hrs IST
Sehwag lauds Punia
Wah ! @BajrangPunia . So proud of you for making us proud. Congratulations for the Gold and for fulfilling your promise of winning one. Shaabash ! #AsianGame2018 pic.twitter.com/RjxFhwqUCj

— Virender Sehwag (@virendersehwag) August 19, 2018
19:49 hrs IST
Bajrang Punia strikes gold
In case you missed it, Bajrang Punia won India's first gold of the Asian Games 2018. You can read all about that in some detail here.
19:40 hrs IST
Day not done
Punia has won gold, and soon Pawan Kumar will have a chance to earn a bronze medal.
19:32 hrs IST
Punia wins gold in hard-fought final!
Punia took an early lead but Takatani fought back. However, Punia rallied and defended well and India's first gold medal has been won! Punia beats Takatani 11-8 in the final.
19:25 hrs IST
Punia vs Takatani underway
The gold medal bout has begun! Punia is already 4-0 up.
19:19 hrs IST
Punia's bout next
In just a few short minutes, Bajrang Punia's gold medal bout vs Daichi Takatani in the men's freestyle 65 kg wrestling will be underway.
19:13 hrs IST
Indian women lead 6-0 at half-time
India lead 6-0 - you read that right - against Indonesia in their women's hockey encounter. In other news, Bajrang Punia's 65 kg men's freestyle bout will begin shortly.
19:05 hrs IST
India dominate Indonesia
Lalremsiami makes it 5-0 to India in the women's hockey game. In an interview with HT before the tournament, skipper Rani exuded confidence when asked about her team's chances. You can see that video here.
19:00 hrs IST
Gurjit Kaur strikes again, India lead 4-0
Another penalty corner, another goal for Gurjit. India are on their way to register a big win here.
18:52 hrs IST
India dominating Indonesia
India score a third courtesy of Gurjit Kaur right in the beginning of the second quarter.
18:49 hrs IST
India lead Indonesia 2-0 after first quarter
Vandana Katariya doubles the lead of the Indian women towards the end of the first quarter. They are in a good position to win this match.
18:40 hrs IST
Indian women draw first blood
India are currently leading Indonesia 1-0 with 8 minutes of the first quarter played. Udita scored the goal to put India ahead.
18:32 hrs IST
India vs Indonesia in women's hockey
The Indian women's hockey team's match against Indonesia is underway. Starting with a win would be ideal for Sjoerd Marijne's charges.
18:24 hrs IST
Prakash finishes creditable fifth
Sajan Prakash did well but could only finished fifth with a timing of 1:57.75. The gold was won by Japan's Daiya Seto, while compatriot Nao Horomura came second. China's Li Zhuhao finished third.
18:12 hrs IST
Sajan Prakash eyes elusive swimming glory
Right then. Srihari Nataraj couldn't get a medal in the men's 100m backstroke, but Sajan Prakash will hope he can win a medal in the men's 200m butterfly event.
18:10 hrs IST
Wushu alert
In wushu news, India's Santhaoi Devi Yumnam comes up short against Elaheh Mansoryan Samiroumi, losing 2-0 in the Women's Sanda 52kg round of 16 match.
18:08 hrs IST
Indian men notch second kabaddi win
After beating Bangladesh 50-21 earlier today, India have now beaten Sri Lanka 44-28 to get their second win of the preliminary stage.
17:59 hrs IST
India dominating Sri Lanka
Meanwhile, India have a 40-24 lead against Sri Lanka in the men's kabaddi match. Another dominant showing thus far by the men who are among the favourites to win gold.
17:51 hrs IST
Srihari Nataraj bows out
Srihari Nataraj of India put in a gallant show in the final of the men's 100m backstroke event, finishing seventh out of eight swimmers with a timing of 56.19 seconds. The gold was won by Xu Jiayu of China with an Asian Games record timing of 52.34 seconds.
17:41 hrs IST
Swimming medal hopes
Srihari Nataraj will compete for the gold medal in the men's 100m backstroke event shortly. Sajan Prakash will later partake in the final of the 200m butterfly event.
17:35 hrs IST
Kabaddi dominance
India have pulled away from Sri Lanka in their kabaddi encounter and are now comfortably ahead. Another win looks very likely at this point.
17:28 hrs IST
India take on Sri Lanka in men's kabaddi
The Indian men's hockey team, who beat Bangladesh 50-21 earlier today, are currently level 8-8 with Sri Lanka.
17:18 hrs IST
Kumar, Punia in medal matches
It's confirmed then. Pawan Kumar beat Fahriansyah in the repechage round 2 and will face Uitumen Orgodol for the bronze medal in the men's freestyle 86 kg category. Bajrang Punia will go for gold vs. Daichi Takatani in the men's freestyle 65 kg category.
17:04 hrs IST
Pawan Kumar gets medal lifeline
Hassan Yazdani has reached the final of the men's freestyle 86 kg bout, meaning Pawan Kumar will play in the repechage round and could still win a bronze.
16:40 hrs IST
Punia's opponent decided
Japan's Daichi Takatani will face Bajrang Punia in the final of men's 65kg freestyle after beating Kazakhstan's Sayatbek Okassov.
16:33 hrs IST
Can Punia go for gold?
Bajrang Punia won gold at the Gold Coast Commonwealth Games earlier this year and also won a silver in the previous editions of the Asian Games. A gold on a day when Sushil Kumar suffered an early loss would certainly cement Punia as India's next big wrestling medal hope for the foreseeable future.
16:27 hrs IST
Bajrang Punia ensures medal
Punia beats Mongolia's Batmagnai Batchuluun 10-0 to ensure India's second medal! Let's hope it is a gold medal.
16:16 hrs IST
India women lose in handball
The Indian women's handball team lost 21-36 to China in a Group A handball match. India did well in the third period but were completely outplayed in the first two, leading to the loss.
16:02 hrs IST
Pawan Kumar bites the dust
Pawan Kumar loses in the quarter-final of the 86 kg category of men's freestyle wrestling. He went down tamely to Iran's Hassan Yazdanicharati 11-0. The repechage bronze is still a possibility though. But that makes one thing certain, Bajrang Punia is India's only men's wrestler who can still win a gold medal.
15:46 hrs IST
Sushil eliminated
Sushil Kumar crashes out of Asian Games 2018 as Adam Batirov lost in the quarterfinals. Not a good news for Indian wrestling fans.
15:42 hrs IST
Khatri defeated
No such good news for India as Mausam Khatri is defeated 8-0 in the quarterfinal clash.
15:34 hrs IST
Time for Mausam Khatri
Mausam Khatri take on Magomed Ibragimov in the 97kg quarterfinals. Can he become the second Indian wrestler to reach the semifinals of the tournament.
15:22 hrs IST
Swimming heroes
Srihari Nataraj and Sajan Prakash advanced to the finals of the 100m men's backstroke and 200m butterfly events respectively at the Asian Games 2018. Not a bad day for Indian swimmers!
15:14 hrs IST
United Korea
The united Korea team, composed of athletes from both North and South Korea, made their first appearance in this year's Games in the men's lightweight four rowing event but had a poor start as they finished last in their heat.
15:05 hrs IST
Wrestling medal
The biggest hope for India in wrestling remains Bajrang Punia who entered the semifinals without much difficulty. Pawan Kumar also advanced in the 86kg category while Mausam Khatri got a bye and will face Magomed Ibragimov in the 97kg quarterfinals.
14:52 hrs IST
Punia enters semis
Another emphatic performance from the star grappler, he has now cruised into the semis.
14:52 hrs IST
Update: India win inTennis Mixed Doubles
Karman Kaur Thandi and Divij Sharan defeat Alberto Jr Lim and Marian Jade Capadocia 6-4, 6-4.
14:50 hrs IST
Update: Calm Bajrang grapples away
He is a huge medal hope and his performances show why.
Such calmness on the mat!
14:44 hrs IST
Update: Pawaan Kumar wins
The Indian beats Vuthy Heng 8-0 in Men's Freestyle 86 kg 1/8 Finals
14:38 hrs IST
Update: Sandeep loses
Unfortunately for India, Sandeep Tomar has to bow out.
14:36 hrs IST
Major problem for Sandeep
He trails 13-6 and looks desperate. Well, the Iranian has been dominant in the second half.
14:31 hrs IST
Update: Wrestling
Great comeback by Sandeep here, he trailed 6-0 and now draws level.
14:27 hrs IST
Sandeep Tomar steps in
After winning the round of 16, there is a lot of expectations from Sandeep.
14:11 hrs IST
Update: Medal tally
China tops with one gold and one silver each
Chinese Taipei and Indonesia are on the second, third spot respectively
India rank fourth with one bronze
13:56 hrs IST
Update: Regu
Indian women's team go down 3-0 to Korea in the Women's Team Regu Preliminary Group A
13:53 hrs IST
Update: Tennis mixed doubles
Karman Kaur Thandi and Divij Sharan bag the first set 6-4 in 38 minutes against the pair of Alberto Jr Lim and Marian Jade Capadocia from Philippines .
13:51 hrs IST
Update: Badminton
Indian men's badminton team win their match against Maldives 3-0.
On expected lines.
13:26 hrs IST
Update: Bajrang bulldozes ahead
He screamed ahead to 13 points and wins the bout on technical superiority.
He looked sharp and hostile, positive signs for the Indian contingent.
13:22 hrs IST
Update: India Chants reverberating around the stadium
This is a bout and a half and the Indian has hit his stride. He is running away with the game, dominance on the mat.
13:19 hrs IST
Update Wrestling: Bajrang makes a comeback
What a bout, insane comeback by the Indian, he rolls over and gets four in one grapple.
13:18 hrs IST
Update: Bajrang Punia trails
After Sushil's shock, Bajrang Punia needs to step up and be counted. He is under pressure, and he gets off them mark.
13:08 hrs IST
Update Kabaddi: India screaming ahead and clinch the match
Well, it has been dominating from the Indians, the raiders are sauntering in, annihilating Bangladesh and then walking off.
This is some statement. India walk all over Bangladesh. 50-21 is the final scoreline, doesn't really matter!
12:58 hrs IST
India in the lead in kabaddi
India are dominating Bangladesh in the ongoing Kabaddi match.
They lead 23-14 and look very strong.
Well, who is surprised?
12:56 hrs IST
Tomar wins
Sandeep Tomar looks far swifter than Sushil, he is looking to make all the moves and he clinches the match. He progresses.
India yelps YES!
12:42 hrs IST
Sushil shocked
India get a huge jolt as Sushil Kumar has lost out to the Bahrain wrestler.
12:41 hrs IST
Sushil struggling
It is not looking too bright for the Indian. Sushil was shoved away to the passive zone and he trails 5-2.
13:38 hrs IST
Defensive play from Sushil
He wants to reserve the energy for the final few rounds and appears to be cautious.
12:35 hrs IST
Sushil enters the ring
Here comes the Indian champion. And is at it right from the outset. There is ankle grap, a signature Sushil Kumar move.
12:33 hrs IST
Update: Men Trap - Shooting
Manavjit Singh Sandhu has moved ahead to the number one spot with 72 points in three shots.
12:29 hrs IST
Update: Women Trap - Shooting
Shreyasi Singh currently at the number two position with 71 points.
Seema Tomar is at the fourth place with 71 points.
12:24 hrs IST
Focus now shifts to Wrestling
After the Bronze medal in shooting, all attention will now shift to wrestling. Expectations running high as a rich haul of medals is expected. Marquee names like Sushil Kumar, Bajrang Punia, Sandeep Tomar, Pawan Kumar, Mausam Khatri will be in action.
12:13 hrs IST
Medal presentation
There is the Indian duo standing proudly as they accept the Bronze medal. The Indian tricolour is lofted.
It all boils down this moment for all these athletes.
11:57 hrs IST
Chinese Taipei bag GOLD
They started off in a flash and never looked back and quite fittingly, Chinese Taipei get the GOLD. China have to be content with a SILVER.
11:55 hrs IST
India clinch BRONZE
Good consistent performance by Chandela and Ravi. India off the mark.
11:50 hrs IST
India hold tight
Brilliant shooting from Apurvi and Ravi Kumar, clutch play. India confirmed a medal.
11:45 hrs IST
Standings after stage 1
India stand second after stage 1 with 308.5. Chinese Taipei lead with 310.2
11:45 hrs IST
This is getting tense
A lot of focus is needed and it requires a strong temperament. Apurvi looks rather calm. Bodes well for India.
11:36 hrs IST
Not very bright from India
After a jittery start, India finally get a good shot. They are currently at the second spot.
11:34 hrs IST
This is tight
China have raced ahead, Mongolia sprinting ahead. India have to up their game as of now
11:32 hrs IST
Big medal hopes for India
Two shots of 10.6 to begin with. This is promising
11:20 hrs IST
Indian badminton team looks all set
हम तैयार हैं🏸🇮🇳👊

Indian Men's contingent is all set for their first match in the Men's Team event against Maldives. Join us in cheering the boys as they take the court later in the day. #IndiaontheRIse #IndiAtAsianGames #AsianGames2018 pic.twitter.com/BN1bxmnWvw

— BAI Media (@BAI_Media) August 19, 2018
11:13 hrs IST
Update: Shooting – Women's trap qualification
Shreyasi Singh is peaking at the right time as she shoots a perfect score of 25 in the third round. She has scored 71 out of 75. Seema Tomar, on the other hand, has scored 24 in the third round to also reach a total of 71. She is fourth as of now.
10:56 hrs IST
Update: Men's Lightweight Four – Rowing
Bhopal Singh, Jagvir Singh, Tejas Shinde and Pranay Naukarkar finish second in their heat. They now will depend on repechage results for qualification.
10:35 hrs IST
Update: Shooting
Seema Tomar is on the fourth place with 69 points.
Shreyasi Singh has moved up to fifth place with 64 points.
Manavjit Singh Sindhu is currently on the third spot with the average of 0.960. He has a total of 48 points.
10:26 hrs IST
Big blow for India
Manu Bhaker and Abhishek Verma fail to qualify for the medal round in the 10m air pistol mixed team category.
They finished 6th in the qualification round with a score of 759. Kazakhstan also finish with the same score but they go through as they did better in the inner 10s.
10:02 hrs IST
Update: India go down in Basketball
After threatening to cause an upset in the first half, India wilted in the second half as Chinese Taipei walked away with a relatively easy win. They win 84-61.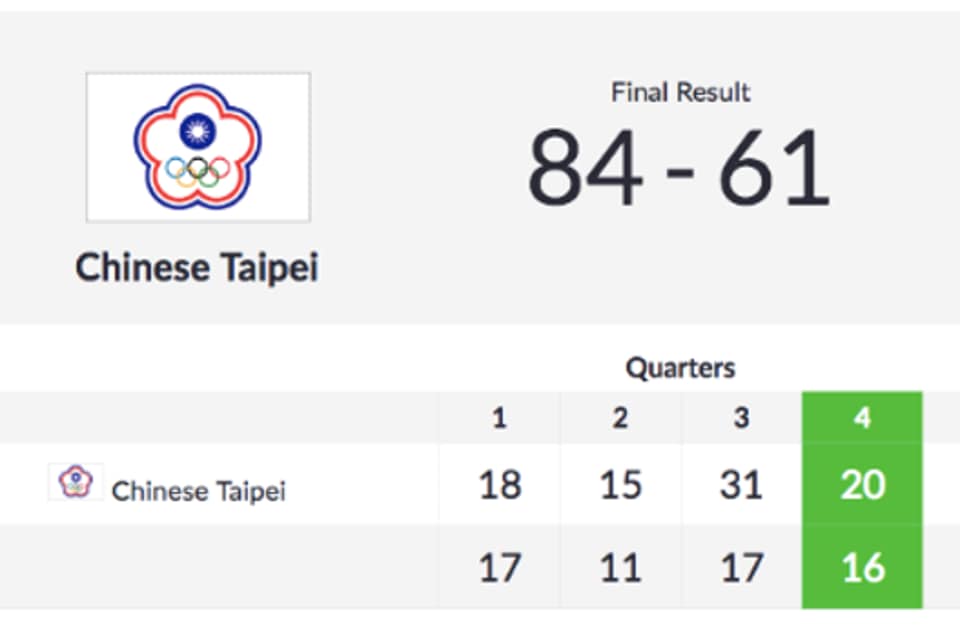 9:55 hrs IST
Update: Women's Basketball 5x5
India have disintegrated after a bright start. Chinese Taipei are storming all over the place and India are getting a hiding.
9:50 hrs IST
Update: Shooting
Manu Bhaker and Abhishek Verma currently at the 13th place with 262 points. They are serious medal contenders.
9:47 hrs IST
Update: Shooting Trap Men
Manavjit Singh Sindhu has been consistent as he tops the Day 1 qualification with an average of 0.976. He is on 41 points
9:45 hrs IST
Update: Women's Basketball 5x5
Chinese Taipei have run away with the game. It has been a one-sided affair so far in the third quarter, India have been on the mat. India trail 45-64 to Chinese Taipei
9:43 hrs IST
Update: Rowing, Men and Women
India's Malkeet Singh and Gurinder Singh, who recorded a time of 7:37.20 have qualified for the finals. The Indian women's pair of Sanjukta Dung Dung and Harpreet Kaur, will have to depend on the repechage as there are two heats.
9:38 hrs IST
Update: Women's Double Sculls
Sayali Rajendra Shekale/Pooja qualifies for the Women's Double Sculls final.
9:32 hrs IST
Update: Men's 200m Butterfly
India's Sajan Prakash is through to the final. it was a terrific swim by Prakash who exploded in the final 50m and ended with a timing of 1:58.12.
9:27 hrs IST
Update: Women's Trap qualifiers, Round 2, Day 1
Seema Tomar is on 5th place with a score of 47/50 while Shreyasi Singh has entered the Top 10 is on the 9th place with a score of 46/50.
8:59 hrs IST
Update: Women's Basketball 5x5
It has been an inspired performance from the Indian eves so far. Chinese Taipei have not been able to press on at any stage of the game. Is there an upset on the cards?
8:57 hrs IST
Rowing men's double sculls update
Om Prakash and Sawarn Singh have clocked 7:10:26 to top Heat 2.
8:46 hrs IST
Swimming update
Srihari Nataraj, Arvind Mani finish first and second, respectively in Men's 100m Backstroke Heat 1. Srihari qualifies, Arvind does not
8:45 hrs IST
Women's basketball event update
India trail Chinese Taipei by three points and it has been an impressive performance so far by the Indian eves.
8:40 hrs IST
Men's Changquan Final - Wushu
Anjul Namdeo finishes fifth in the final with 9.66. Chinese Taipei's Tsemin Tsai clinched bronze with a score of 9.70. India's Suraj Singh Mayanglabam finishes 10th with 9.51.
8:35 hrs IST
Update: Women's basketball
India take on Chinese Taipei and are currently trailing 5-4
8:29 hrs IST
Update from Rowing
Dattu Baban Bhokanal has finished second in Heat 1. He now enters the repechage round
8:28 hrs IST
Impressive from the shooters
Apurvi Chandela/ Ravi Kumar are through to Final of 10m Air Rifle Mixed Team event. They scored a total of 835.3 in the 10m Air Rifle Mixed Team event
8:21 hrs IST
Swimming Update
Saurabh Sangvekar clocks 1:54:87 in 200m Freestyle Heat. He was second in his batch. He has failed to qualify.
8:19 hrs IST
Update from Air Rifle Mixed Team
Apurvi Chandela and Ravi Kumar score 208.6, 208.7, 206.7
8:15 hrs IST
India win
It was a rampant Indian side as Japan were never really in the game. One-sided affair to say the least an emphatic win from the favourites.
India 43-12 Japan
8:09 hrs IST
Good day so far for India
India are running all over Japan in Kabaddi. And, then Manavjit Sandhu has got off the blocks perfectly. He has shot 25 out of 25 in the opening round.
8:02 hrs IST
Shooting update
Seema Tomar is second with an average of 0.96. 24 out of 25 targets.
Shreyasi Singh has scored 22 and sits on 8th place
7:57 hrs IST
Running away with the game
India now lead Japan by 17 points and are not easing any pressure at all. The Japanese team look hapless at the moment, no letting up from India.
7:48 hrs IST
Taking control
After few jitters, the Indian team has wrested control and are now dominating the Japanese. They look prepared, fit, and ready.
India 19-8 Japan at the end of first half
7:40 hrs IST
Japan resilient
The Japanese defence has been punching above their weight and have posed several questions to the Indian raiders. India have to fight here, they lead 8-6.
7:33 hrs IST
Flying start
3 raid points and then defence steps up. Japan have been forced to go in a huddle right at the outset. Dominant, and a benchmark has been set.
7:28 hrs IST
Kabaddi action starts
India take on Japan in the women's Kabaddi match. 30 minutes of pulsating action, India are the overwhelming favourites.
7:08 hrs IST
The action begins
Indian shooters Seema Tomar and Shreyasi Singh are currently in action in Trap Women Qualification
7:04 hrs IST
PM wishes good luck
Best wishes to the Indian contingent for the @asiangames2018, which are being held in Indonesia. We are extremely proud of our athletes and I am sure they will give their best through the games. #AsianGames2018

— Narendra Modi (@narendramodi) August 18, 2018
6:49 hrs IST
Marquee events
Wrestling: Double Olympic medallist Sushil Kumar will be in action in 74kg freestyle event .
Shooting: CWG gold medallist Manu Bhaker will pair up with in 10m air pistol mixed team event
Hockey: Indian women's hockey team will be up against Indonesia in their opening Pool B match
6:41 hrs IST
What a start
Indonesia were glorious in the opening ceremony, the Volcano erupted and the Asian Games are on. It promises to be a grand spectacle.
Let the games begin!
Close