2018 Commonwealth Games: P Gururaja wins silver medal in men's 56 kg weightlifting
Apr 05, 2018 09:27 AM IST
P Gururaja equalled his personal best of 249 kg to finish second in a field where Malaysia's three-time Commonwealth Championships medallist Muhammad Izhar Ahmed broke the Commonwealth Games record for snatch and overall lift.
He shifted to weightlifting from wrestling after watching Sushil Kumar win gold in the 2010 Commonwealth Games. Just like Sushil, he wanted to a gold medal in the Commonwealth Games and repeat the performance in the Olympics. (CWG Day 1 live updates)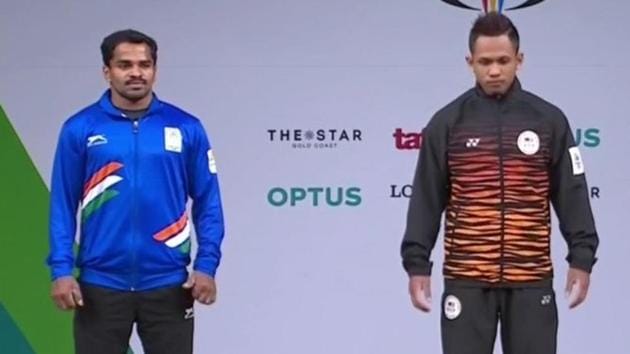 Though his hopes fell short at Gold Coast on Thursday, Gururaja managed to get India's medal hunt off to a good start in the 2018 Commonwealth Games with silver medal in the men's 56kg on the opening day of competitions here.
The 25-year-old from Chitturu, Karnataka had his heart in his mouth when he failed his first two attempts, the second one a slightly dicey call by the three judges. He had to make the third and final attempt at 138 or he would have dropped to the last position in the standings with only his snatch lift of 111kg against him name.
With pressure mounting and his back to the wall, Gururaja, who took up weightlifting only in 2010 under coach Rajendra Prasad, made a clean lift to pull himself to second position. But there was one more hitch -- Fiji's Manuell Tulo was still in the hunt and by lifting 140 kg could have overtaken Gururaja.
To the relief of Gururaja and the Indian fans at the Carrara Sports and Leisure Centre, Tulo found the weight too much and failed. That sealed Gururaja the second spot and a silver medal with a total weight of 249kg.
READ | Commonwealth Games 2018: Indian women's hockey team lose 3-2 to Wales in opener
"I am happy to win India's first medal here but I am not happy with the overall weight that I managed here. The blessings of my parents and the efforts of my coaches Rajendra Prasad and Vijay Sharma and help of federation helped me win this medal," Gururaja said after the event.
Mohammad Azroy Hazalwafi of Malaysia bagged the gold with a total of 261 kg and a Commonwealth Games record to boot. Sri Lanka's Chaturanga Lakmal won the bronze with 248 kg.
Gururaja was placed third at the end of snatch with 111kg as Hazalwafi, the favourite in this weight category, led the way with a Games record lift of 119kg, improving the old mark held by a compatriot by 3kg. Lakmal was second with 114kg.
But clean and jerk is Guuraja's strong point and he did not disappoint, although things could have been better if he had managed his first attempt. Though Hazalwafi had a big lead, Gururaja would have cut down the gap with two attempts in hand.
READ | Commonwealth Games 2018: Indigenous rights protestors contained by police
"I had beaten them both last year in the 2016 Commonwealth Championships, and I have lifted 150 in practice. So, a bit unhappy not to have repeated that here," Gururaja said.
He blamed the absence of a physio in the warm-up hall for a loose back that did not help him in completing the jerk part the way he would have wanted. "The physio was not allowed in to the hall. His presence would have helped me because I have small niggles in my back and left knee. The physio gave instructions on phone but that was not enough," Gururaja said.
Asked what was going through his mind as he waited for his third and final lift in clean and jerk after no-lifts on first two attempts, Gururaja said, "I was a bit tense as I had seen my second lift and could not make it why they had termed invalid. But my coaches got me settled, Vijay Sharma sir told me that this was my last chance and that the entire country was looking up to me for a medal. That got the focus back and I managed to lift the weight," he added.
His aim is now to do well in the Asian Games and the 202 Olympics in Tokyo. "In the last three years we have gone neck and neck. I beat Hazalwafi and Lakmal in 2016 and they got the better of me in 3017. Now I want to beat them and win gold," said Gururaja as he walked off for the mandatory dope test.