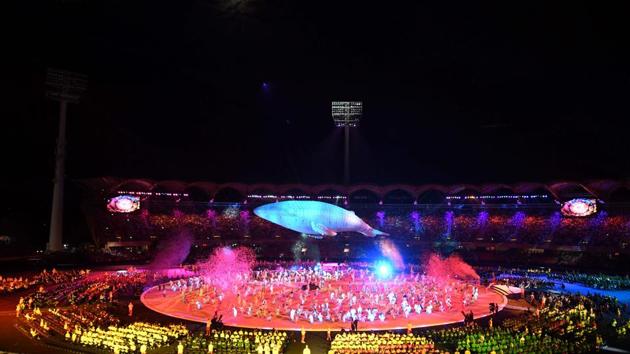 Commonwealth Games 2018: Indigenous rights protestors contained by police
About 100 protestors carrying signs that read "colonisation is not a game" were contained by police at the Gold Coast Commonwealth Games' opening ceremony on Wednesday.
Reuters, Gold Coast | By Reuters
UPDATED ON APR 04, 2018 08:46 PM IST
Indigenous rights protestors, a heavy rain shower and transport issues provided a turbulent backdrop to the opening ceremony of the Gold Coast Commonwealth Games on Wednesday.
About 100 noisy but peaceful protestors were contained by police outside the venue some 90 minutes before the official start of the ceremony, attended by Britain's Prince Charles, his wife Camilla, the Duchess of Cornwall, and Australian Prime Minister Malcolm Turnbull.
The protestors, carrying signs that read "colonisation is not a game", had earlier disrupted a leg of the Queen's Baton Relay and demanded Britain's royal family members ask them for permission to visit "stolen" land.
Organisers also had to scramble to get spectators to the stadium after significant backlogs at transport hubs for shuttle buses, which organising committee chairman Peter Beattie acknowledged on Twitter.
READ | Commonwealth Games 2018: Gold Coast Opens With Spectacular Ceremony
"There was a delay at Broadbeach," Beattie wrote. "Extra buses were dispatched. I understand the backlog has cleared. Thanks for your patience."
A torrential downpour then began just minutes before the ceremony started at 8pm local time (1000 GMT) to an estimated global viewing audience of more than one billion and about 35,000 at Carrara Stadium.
STRONG ABORIGINAL INFLUENCE
Despite the protests outside, the ceremony drew heavily on Aboriginal culture and symbolism, with 11-year-old Isabella Graham starting the countdown with a message on a smartphone welcoming competitors, officials and fans to the "oldest living culture on Earth".
READ | Commonwealth Games 2018: Prince Charles faces protest as activists disrupt baton relay
Aborigines inhabited Australia more than 50,000 years before the First Fleet sailed into Botany Bay near Sydney in 1788 after the country had been declared 'terra nullius', or unoccupied.
Aboriginal musicians also played didgeridoos while children from the local Yugambeh people performed traditional dances before Prince Charles and the Duchess of Cornwall were accompanied by local elders Ted Williams and Patricia O'Connor.
Williams and O'Connor welcomed all of the competitors, officials and fans on behalf of the traditional custodians of the land.
"Jingeri," O'Connor said, a traditional Yugambeh welcome. "On behalf of the Yugambeh people, I welcome you.
READ | England in Africa? Commonwealth Games 2018 programme gaffe leaves officials red-faced
"This ceremony tonight is an acknowledgement of the truth of our past. The power of the future and an invitation to stand together united."
The strong beach and surf culture of the city of about 640,000 that sits some 80-kilometres south of Brisbane was also heavily referenced throughout the ceremony.
Junior surf life savers, all carrying surfboards emblazoned with the country's name, escorted each of the 71 teams from mostly former British colonies in the Parade of Nations, led by Scotland, the previous hosts of the Games in 2014.
READ | Australian boxer gifted first medal of Commonwealth Games without a punch thrown
Predictably, a massive sustained roar began about 20 seconds before the host nation Australia, who have more than 470 athletes competing, had even entered the stadium as the last team.
The Games were officially opened after about two-and-a-half hours when world hurdles champion Sally Pearson presented the Queen's Baton to Prince Charles, ending its 388-day and 230,000-km journey.
"The ancient stories of the indigenous people of Australia remind us that even though we may be half a world away we are all connected," the Prince said as he read the Queen's message.
READ | Australia hit reset at Commonwealth Games 2018 following cricket scandal
"Over the years these friendly Games have showed the potential of the Commonwealth to connect people of different backgrounds and nationalities.
"In this spirit of co-operation and togetherness, common ground has been established and enduring friendships forged."
Competition begins on Thursday with the men's and women's triathlon to be among the first medals awarded.
Close