Daniel Ricciardo takes tense Formula One Monaco Grand Prix win on Red Bull's 250th race
Reuters, Monaco |
Reuters
May 27, 2018 10:03 PM IST
Daniel Ricciardo won the Formula One Monaco Grand Prix on Sunday from Ferrari's Sebastian Vettel and Mercedes' Lewis Hamilton.
Daniel Ricciardo brought back memories of Formula One great Michael Schumacher in his prime on Sunday as the Australian nursed a wounded Red Bull to Monaco Grand Prix victory in the team's 250th race.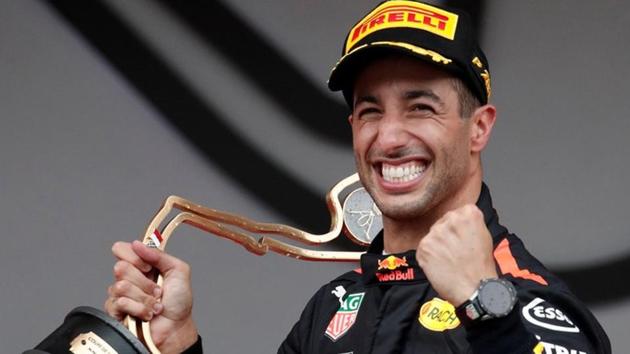 Winning from pole position for the first time in his career, Ricciardo drove for nearly two thirds of the race with a car down on power due to problems that emerged on lap 28.
READ | Formula One aims to agree 2021 engine rules by end-June
Ferrari's Sebastian Vettel, last year's race winner, finished second to cut Lewis Hamilton's overall lead to 14 points after six of 21 rounds.
Hamilton, the reigning world champion, was third for Mercedes.
"You have done an amazing job today," team boss Christian Horner said after Ricciardo took the chequered flag 7.3 seconds clear of Vettel.
"That is right up there with what Schumacher did... and this is payback for 2016."
Ricciardo's only previous pole had been in Monaco two years ago, when he lost out to Hamilton on strategy and finished runner-up.
This time Ricciardo also made a clean start and, controlling the pace and the race, looked as much of a nailed-on certainty for victory as ever exists on Monaco's treacherous metal-fenced streets.
And then it all seemed to unravel when he reported a loss of power over the team radio.
READ | Daniel Ricciardo takes Formula One Monaco Grand Prix pole with track record lap
"OK mate, we can see what's going on," his race engineer replied after a pause. "You just need to keep it smooth, keep focused."
"Will it get better?" enquired the Australian.
"Negative," came the reply.
From then on, Ricciardo -- down on power and with Vettel in his rear view mirrors -- was a model of consistency on a track where overtaking is a challenge for even the greatest of talents.
For lap after lap he kept the gap until Vettel's tyres showed signs of wear.
"Absolutely amazing, I don't know how you did that, Daniel," said engineer Simon Rennie.
"We had problems. We had a lot to deal with during the race. I felt a loss of power and I thought the race was done. I got home just using six gears," Ricciardo told reporters later.
READ | 'Queen of speed' Danica Patrick set to end motor racing career at Indy 500
"Thanks to the team. We got it back. I'm stoked.
"From two years ago I feel we got some redemption now, we can put 2016 behind us," he added.
A largely processional race under cloudy skies saw the safety car stay in the pits, with only a virtual safety car needed in the closing laps.
That was triggered by Sauber's Monegasque driver Charles Leclerc, the first local F1 driver in 24 years to compete on his home streets, having piled into the back of New Zealander Brendon Hartley's Toro Rosso at the tunnel exit.