Dilip Tirkey gives back to game, lays hockey pitch in village
Apr 29, 2017 10:49 AM IST
Former India hockey captain Dilip Tirkey, who is a Rajya Sabha MP, has taken an important step to improve infrastructure for the most popular game in his region
The tribal belt of Orissa, Bihar and Jharkhand has contributed a number of national and international level athletes down the decades. However, many of them have had to overcome primitive infrastructure as well as poverty and Maoist violence before shining for their states and country.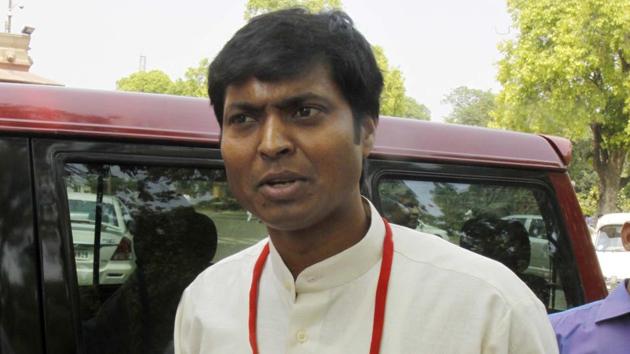 Now, former India hockey captain Dilip Tirkey, who is a Rajya Sabha MP, has taken an important step to improve infrastructure for the most popular game in his region.
The highly-regarded defender, who played in the 1996, 2000 and 2004 Olympics, is getting an artificial hockey pitch laid in his village, Saunamara, in Orissa's backward Sundargarh district.
READ | Indian hockey team bids to mould all-rounders: Chief coach Roelant Oltmans
Tirkey said the hockey field will be sand-based, which required far less maintenance, especially when it came to watering the pitch. "The construction work has started and in a couple of weeks the pitch will be ready," Tirkey said.
Tirkey says the pitch will attract youngsters from nearby villages. "If a student is good in sports there are lots of avenues these days. Perhaps a good job will change their lifestyle and at the same time discourage them from picking up guns as the region is a hotbed of Maoists," he told HT on phone from Bhubaneswar.
Tirkey knows the value of quality infrastructure when a boy or girl takes up a sport, having begun his decade-long playing career on an uneven, muddy playground in his village, until he joined the Sports Authority of India training centre in Sundargarh. "Usually, kids dribble on any barren patch of earth, but that will be history now," he said.
Funds a challenge
Acquiring land for the hockey turf wasn't an issue, but funds were. He helped generate funds to the tune of Rs. 5 crore, the estimated cost of the project. He contributed Rs. 1 crore from his MPLAD (MP local area development scheme) fund and appealed to others, including corporate houses, for help.
"It was a challenging task, but the response was good. It wasn't possible for one department to give the full amount. The best way forward was to pool in resources. Corporate houses like Steel Authority of India came forward for a common cause of developing sports infrastructure in the village," he said.
Tirkey hoped his effort would push others to help raise infrastructure in the region. Besides the full hockey pitch, he has also initiated a proposal to have a sand-based six-a-side hockey turf and an artificial football ground.
Hockey culture
The Olympian said football is a seasonal game in his village. While few play cricket, everyone is excited when it comes to hockey. "There is passion for hockey. We can proudly say it's in our blood. That's why it's important to have one good playground in the village," he added.
To infuse sports culture in youngsters in the region, the Dilip Tirkey Sports Research and Development Foundation has also started a hockey tournament for tribal youth from Odisha and Chattisgarh last year. As many as 1300 teams from over 700 villages took part. The final of the tournament will be held in August. "There were 32 venues and the matches are still on. Each venue had at least two teams," he said.
Facilities still scarce
Tirkey said water and power are still scarce in the region. "That's why we are having a sand-based artificial pitch, which doesn't need much maintenance."
There is also an annual talent hunt scheme initiated by SAI in the region. Players with potential get a chance for more exposure and can avail modern facilities, either at Sundargarh or Rourkela.
Tirkey has also started a six-a-side hockey tournament in his village last year. Though only six teams took part, he is confident it will grow.
The latest from his village to make the cut for the national team is Dipsan Tirkey, who was vice-captain of the junior World Cup-winning team at Lucknow last year.
"With good facilities we hope the village will be able to regularly contribute players to the national team," he added.