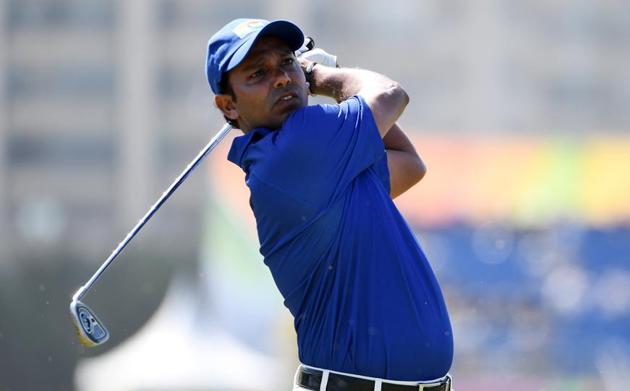 Golfer SSP Chawrasia left high and dry by Indian Olympic Association
SSP Chawrasia said he and Anirban Lahiri are yet to be compensated for the expenses borne in preparation for the Rio Olympics this year.
UPDATED ON DEC 22, 2016 10:16 PM IST
SSP Chawrasia said he is yet to be compensated for the expenses borne in preparation for the Rio Olympics this year. Chawrasia and Anirban Lahiri represented India at the Olympics but couldn't make a mark in the tournament, finishing T50 and T57, respectively.
Chawrasia claimed the Indian Olympic Association (IOA) had promised him Rs 30 lakh but went back on its word as soon as the Olympics ended. "They had committed Rs 30 lakh but suddenly changed it to Rs 15 lakh. There was written communication between us but now it's getting difficult to retrieve the money. I have only got around Rs 5.5 lakh so far," said Chawrasia at the end of the first day of the PGTI year-ending championship at the RCGC, here on Thursday.
"Anirban's case is worse. He hasn't got any money. I don't get the logic. Anirban was in USA but his manager was in Delhi. He was doing rounds of the IOA office for a long time. Every time he submitted the bills, he was asked to make a few changes and return with new bills. It continued till one day they just told him he won't get any money since the deadline to submit bills was over," said Chawrasia.
"We had already spent that amount of money thinking we would be reimbursed. We are still golfers. But think about the other players. If it had been anybody else he would have been ruined," said Chawrasia.
Chawrasia also said they weren't even provided with the basic amenities at Rio. "It was freezing cold. We neither got raingear nor a jacket. There was no help from the management. We were supposed to get drops from the Olympic village but we got almost nothing that was promised to us. Once we had to wait four hours to get a drop. Anirban was forced to hire a cab. The village was around 30 minutes away from the airport but we were asked to report four hours before the flight. Imagine our plight waiting for hours with all that gear on us," he said.
The Indian Open champion was also unhappy about the treatment of the officials at the Olympics. "I normally don't watch other sports but this time I wanted to because we had been promised passes to events we would like to watch. But their behavior was simply unacceptable. It was as if we were servants. The next time we are selected (for Olympics) we will prepare well ahead so that we don't land in trouble again," he said.
Pariya takes lead
Thailand's Pariya Junhasavasdikul carded a six-under to grab the first day lead at the PGTI year-ending championship at the RCGC here on Thursday. Playing on a sponsor invite, Pariya was one shot ahead of Khalin Joshi. Amardip Sinh Malik, playing despite a dislocated little finger, fired a hole-in-one on the second that propelled him to tied third place at four-under-68 along with Ranjit Singh. Jeev Milkha Singh was also off to a solid start as he posted a three-under-69 to be tied fifth.
Leaderboard: 66-Pariya Junhasavasdikul; 67-Khalin Joshi; 68- Ranjit Singh, Amardip Sinh Malik; 69 – Honey Baisoya, Jeev Milkha Singh.
Close