Hockey World Cup: Holders Australia embark on mission hat-trick
Updated on Nov 29, 2018 05:24 PM IST
Australia have made it to the podium nine times at the Hockey World Cup, missing out only in 1998 when they ended fourth.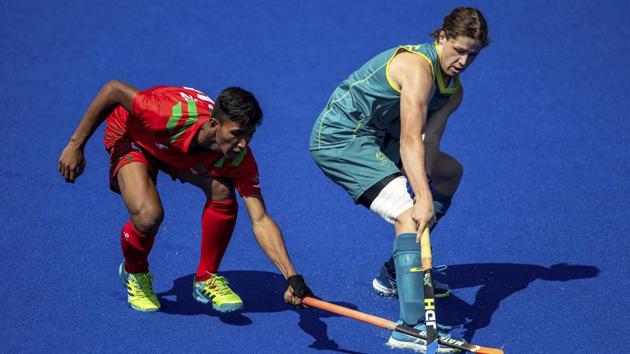 Defending champions Australia will begin their quest for a hat-trick of titles with a clash against unfancied Ireland in Group B of the hockey World Cup on Friday. Australia, who won the last time the tournament was held in India eight years ago, take a formidable record into the event.
Their world ranking hasn't slipped below No 3 in the last 15. And in their last 10 World Cups, they have made it to the podium nine times, missing out only in 1998 when they ended fourth. If Ireland need more reminding what they are facing first up, Australia have not lost a World Cup match since 2010, when they claimed the title in New Delhi.
A strong title contender, making the podium is not something the team is fretting about. "We've got a comparatively new team this time. Half the side is playing in their first World Cup. We are not taking any pressure to defend the title, but looking at it as a challenge," said Australia skipper Aran Zalewski.
Known for their innovations, Australia have appointed two captains for this campaign. Eddie Ockenden is the other skipper. The team has landed at the end of another successful year.
READ: Virat Kohli will not be the top scorer in the Test series - Ricky Ponting makes series prediction
They won the Commonwealth Games for the sixth time in April and then beat India in the final to lift the Champions Trophy for the 15th time.
Coach Colin Batch said: "Australia has got a proud history and is a three-time World Cup winner. The fourth title is very much our target. But right now I can say everyone is equal and our focus is really on our first match, making sure we are thoroughly prepared."
Ireland, ranked No 10 in the world, have little pressure of expectations. England and China are the other teams in the group.
If Australia are looking to motivate themselves, funding for the team depends on their continued good performances. With the 2020 Tokyo Olympics approaching, the government-run Australian Institute of Sport has decided to extend financial support to 12 disciplines, including hockey, for two years.
"It's very important that we continue with the funding. It's linked to our performance and it is good to have the funding consolidated right through to 2020 Tokyo. The team has earned that with their performances over the last two years. We would like to perform well here because then the players will get more funding," Batch said.
Personalise your news feed. Follow trending topics