Honey Baisoya sweeps to four-shot win at Delhi-NCR Open golf
Honey Baisoya reeled in overnight leader Shamim Khan to emerge victorious in the Delhi-NCR Open golf tournament in Noida on Friday.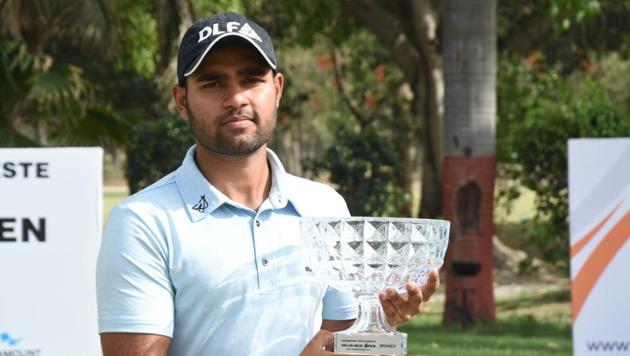 Published on Apr 20, 2018 07:19 PM IST
Shamim Khan was a year into his professional career when Honey Baisoya was born in 1996. A man of few words, the 39-year-old is, more often than not, accurate like his short game.
Carrying a one-shot lead into the final day of the Delhi-NCR Open, Shamim had hoped experience would tilt it his way. "Once in contention, you know how to control the game and emotions, unlike a youngster who could throw it away due to nerves."
Honey proved him wrong by winning for the second consecutive week (after the Pune Open), this time by four shots, but vindicated Shamim's take on experience. Shamim was tied second.
READ | India can do well in table tennis World Championship: CWG winner G Sathiyan
His sixth title on the Professional Golf Tour of India (PGTI) in less than two years, Honey, at 21, knows a thing or two about staying steadfast. A critical lesson in this regard incidentally came at the Noida Golf Course, which gave him his third title on Friday.
Playing in the leader group on the final day of the Take Solutions Classic in August 2016, watching Rashid Khan's lead fluctuate late into the round and his and others' mistakes allowing Rashid to escape, Honey came away wiser.
Aggression pays
"Everyone makes mistakes (under pressure), but one has to keep making birdies to make a difference," said Honey after consolidating his lead on the order of merit. Taking a vow to never give up till it's over, Honey can vouch the motto has paid off as not only did it get him his breakthrough win on the PGTI two seasons ago, but has come handy many times since then.
READ | Tejaswini Sawant says 'no comeback, just continuation' of shooting career
Another occasion arose on the 12th hole here as a double bogey saw his lead down to a shot but not one to cow down, Honey made birdie on the next and waited for Shamim, the closest on the heels, to err. Finishing with a birdie, the four-shot win was a tribute to his aggressive play and the Delhi Golf Club (DGC), where he plays most of his golf.
The tight fairways of DGC are known to encourage conservatism by taking the driver out of play, but in Honey, brought forth a stubborn streak. During practice or at Asian Tour events, the driver is used on every hole, but with care. Waywardness can be fatal and the realisation has come with experience.
Final Top Scores
277: Honey Baisoya (70, 69, 68, 70)
281: Om Prakash Chouhan (68, 69, 70, 74); Shamim Khan (69, 72, 65, 75)
282: Harendra Gupta (69, 74, 69, 70)
283: N Thangaraja (71, 71, 72, 69); M Dharma (70, 70, 70, 73); Shankar Das (68, 70, 69, 76)
Close Story