Thrills & spills as Pacers win on NBA India debut
After the regulation time ended at 118-118, the match was decided in the extra five minutes when the Pacers, who were trailing throughout the match, went ahead for the first-time and managed to eke out a close win.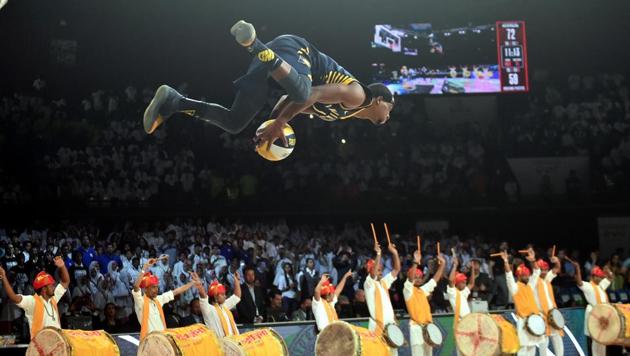 Updated on Oct 04, 2019 11:29 PM IST
The NBA made a historic foray into India with the first-ever preseason game involving Sacramento Kings and Indiana Pacers, at the National Sports Club of India's indoor stadium here on Friday. The match had all the ingredients one associates with NBA—slam dunks, fast breaks, quick-silver layups, fast-paced drives and precision free-throws—that kept a crowd of more than 3,000 children from the Reliance Foundation Junior NBA programme mesmerised. In the end, Pacers defeated the Kings 132-131 in overtime.
It wasn't just the game that kept the spectators enthralled on Friday — the parade of celebrities, basketball legends, music, dance and fun games during breaks kept the crowd engaged. The second game on Saturday is likely to be a bigger draw with more celebrities expected.
Though the game started at a slow pace, it became a thriller as the Pacers made a brilliant comeback to tie the Kings—who had led in the first three quarters—118-118 with seconds to go. With the teams tied at the end of regulation time, the match went into five-minute overtime.
The preseason games are an indicator that NBA wants to expand its footprint in India. NBA commissioner Adam Silver articulated his thoughts, saying that he had two immediate goals for India — they want to see a top-level talent from the country play in the NBA in 10 years' time and ensure a domestic professional league on the lines of NBA in the country in five years.
Silver hoped that projects like the NBA Academy, Junior NBA and programmes for development of the game at the grassroots level will help realise the dream.
"Our two most immediate goals are to see the development of some top-tier talent coming out of India, where we would again see players coming into the NBA and WNBA. There's also an enormous pool of young women playing the game as well. Also, we are seriously considering the launch of a league," said Silver.
It's another thing that Silver's predecessor David Stern too had said similar plans. But Silver affirmed that they (NBA) were closer to fulfilling their goals now than five years ago.
On whether Indian fans could hope to see more NBA games, Silver said they would love to do so but highlighted the lack of proper infrastructure in the country.
"One of the things we need, though, is more of an arena infrastructure. I think this is where Vivek (Ranadive)—chairman and co-owner of Sacramento Kings—was a little ahead of the schedule that we might otherwise have been on. This is a fantastic facility we're in today, but it required us bringing in a court, a scoreboard, seats, locker rooms. And it's relatively small certainly by NBA standards," said Silver.
"I have had some interesting discussions with developers over the last two days here. I think it's inevitable that there will be state-of-the-art arenas in major cities in India, in part because these are multiuse facilities and live entertainment is increasingly important here as well.
Of course, a great arena can have concerts and other shows. But we do need to see those arenas over time in order to play more games," he added. He said the NBA was here to stay and hoped it will develop a top-level consumer for the NBA in Asia after China.
Close Story