Lewis Hamilton fastest twice as Mercedes dominate Austrian Grand Prix practice
Spielberg |
Agence France-Presse
Jun 29, 2018 08:43 PM IST
Mercedes driver Lewis Hamilton topped the time sheets during both practice sessions of the Austrian Grand Prix on Friday.
Lewis Hamilton dominated the opening day's practice for this weekend's Austrian Grand Prix, topping the times in both sessions ahead of his Mercedes team-mate Valtteri Bottas.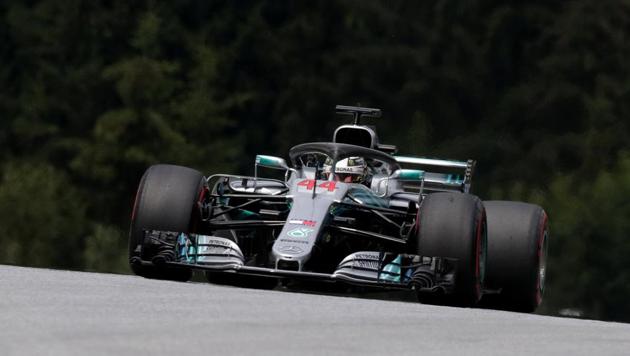 The defending world champion revelled in the performance of his car's updated chassis and engine as he and Bottas set the pace ahead.
READ | French GP: Kimi Raikkonen's grand response to reports of Ferrari ditch
Five days after his triumph in last Sunday's French Grand Prix at Le Castellet, the 33-year-old Briton clocked a best lap time of one minute and 4.579 seconds in the afternoon's second session.
That was enough for him to be 0.176 seconds quicker than Bottas and 0.236 seconds faster than title rival four-time champion German Sebastian Vettel of Ferrari, who was third.
Australian Daniel Ricciardo, who will 29 on Sunday, was fourth ahead of his Red Bull team-mate the Dutchman Max Verstappen with Finn Kimi Raikkonen sixth in the second Ferrari.
Frenchman Romain Grosjean was seventh ahead of his Haas team-mate Dane Kevin Magnussen, Frenchman Pierre Gasly of Toro Rosso and Belgian Stoffel Vandoorne.
READ | Lewis Hamilton cruises back to standings summit with France win
Frustrated and luckless two-time champion Spaniard Fernando Alonso, who won the Le Mans 24-Hours race with Toyota two weekends ago, was 19th in the second McLaren.
The session interrupted by one red flag, for four minutes, when Gasly ran over the higher "sausage" kerb at the final corner of the short power-orientated circuit. "I broke the suspension on the kerbs," he said.
His car's front left suspension was damaged in the impact, which sent him spinning into the gravel.