'The real Mahavir Singh Phogat '10 times stricter' than Aamir Khan in Dangal'
Updated on Mar 25, 2017 04:29 PM IST
Mahavir Singh Phogat was "10 times stricter" than the 'bapu hanikarak' (harmful father) Aamir Khan portrays in Dangal, says Vinesh Phogat.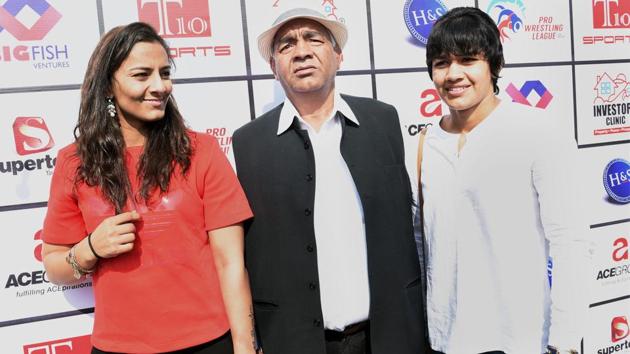 'Dangal' has pushed renowned wrestler Mahavir Singh Phogat into the limelight, at the national level and beyond. Aamir Khan, who plays the role of Mahavir, who moulded his daughters and niece into champions, breaching what was until then a male preserve in the country.
'Dangal' is running to packed houses with Aamir's role hailed by Mahavir himself. However, Vinesh Phogat, Olympian and Mahavir's niece, says the patriarch in the film doesn't look anywhere as daunting as her uncle.
Vinesh Phogat joked that uncle Mahavir Singh Phogat was "10 times stricter" than the 'bapu hanikarak' (harmful father) Aamir Khan portrays in Dangal.
DANGAL INSPIRES PWL
Geeta Phogat, Mahavir's elder daughter, has said the film was a big motivation to battle for fresh honours, starting with the second edition of the Professional Wrestling League, where she and sister Babita will turn out for the Uttar Pradesh franchise.
'Dangal' has inspired the UP franchise, which has attached the film's name to the team.
Vinesh Phogat, a Commonwealth Games medallist, is amused at the frenzy whipped up by 'Dangal' with more and more people keen to know about Mahavir Phogat and his daughters and niece.
"It's kind of strange how much more popular the Phogat clan has become post the release of Dangal. But what surprises me is the media frenzy. I think the media that came with Aamir sir during Geeta di's marriage outnumbered the ones who came after Sakshi (Malik) won bronze," a smiling Vinesh told PTI.
REHAB BEFORE FILM
Sakshi Malik became India's first woman Olympic medallist at the Rio Games, but Vinesh Phogat's Rio medal hopes ended in tears and agony after she suffered a freak knee injury during the quarterfinal bout against China's Sun Yanan in the 48kg category.
READ | Of Dangal fame, Geeta Phogat and her wrestling sisters' hair-raising story
"I am so busy with my rehab at the JSW set up in Bengaluru that I have not been able to watch the film. Aamir sir had requested me to come to Mumbai for the premiere but I had to give it a miss as it would have affected my rehab," she said.
'Bapu hanikarak' (harmful father) is a hit number of Dangal that highlights the struggles faced by Geeta and Babita (Mahavir's daughters) while training to become international wrestlers.
Asked whether Mahavir Phogat was as strict as Aamir's character, Vinesh laughed. "He was 10 times stricter, he was at a different level.
"At the India camp, it's a very different kind of training than what we learnt at home. Under tauji (uncle), it was exercise and strength training in the morning and mat training during evenings.
"At the India camp, it's very different and according to the need of each wrestler," said Vinesh.
INJURY COMEBACK
Vinesh is aiming for a comeback in the Asian Championships in New Delhi as she nears the end of her rehabilitation.
"The doctors told me I could train from January but I would like to be 100 percent confident about my recovery. We have trials in March. I hope I can make the cut."
Is the 2018 Commonwealth Games in Gold Coast, Australia her next target? "I already have a CWG medal, so I don't want to have the same target. The target is only Tokyo 2020."
Close Story
Personalise your news feed. Follow trending topics