Geeta Phogat's wrestler dad Mahavir Singh glorified in Aamir Khan's Dangal
Updated on Dec 23, 2016 06:14 PM IST
Geeta Phogat wrestled to a historic gold medal in the women's freestyle division of the 2010 Commonwealth Games in Delhi. Aamir Khan's Dangal is a film on Geeta's father Mahavir Singh Phogat, who dared to go against the system in Haryana and produce a string of champion women wrestlers. Dangal is already making waves.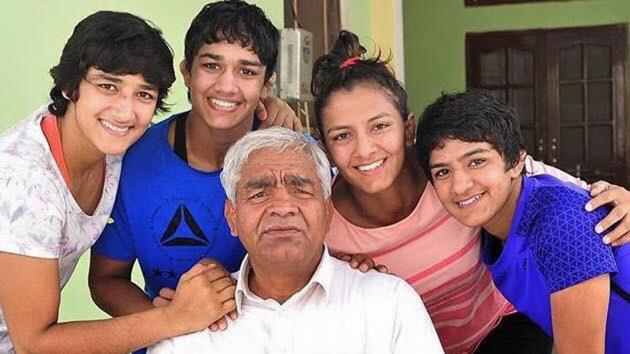 Bollywood's increasing love for sporting subjects has now brought women's wrestling under the spotlight and more importantly, how a family in Haryana grappled with social issues to produce a slew of champions.
Amir Khan's latest movie, Dangal, is based on the life of one of India's finest woman wrestler, Geeta Phogat. Amir Khan plays the role of Geeta Phogat's father, Mahavir Singh Phogat, an amateur wrestler and a Droncahraya Award winner from the Indian government.
In Haryana, where every mother probably wants to give birth to a son, the story of Geeta Phogat and her father, Mahavir Singh Phogat, is truly amazing. In recent times, Dangal is the second Bollywood movie based on a rustic sport like wrestling. Salman Khan's Sultan was also based on the muddy background of wrestling.
The Phogat family is unique. Geeta Phogat's success as a wrestler set the ball rolling for sisters Babita, Ritu and Sangeeta to take up the sport and play it at international level. First cousin Vinesh, a Commonwealth Games gold medallist, was also trained by Mahavir Singh Phogat.
Amir Khan's Dangal underlines a man's enormous conviction level to produce champions from a system that probably thinks a woman's best place is in the kitchen. Geeta Phogat, who won gold in the 2010 Commonwealth Games in Delhi, was Mahavir Singh Phogat's first big success story.
Geeta Phogat was born to be a wrestler who would go to conquer the odds of the society with her father.
When Geeta Phogat, the first Indian woman to win a gold in wrestling at the Commonwealth Games was born in 1988, her mother was quite disappointed as she was wishing for a boy, claims a new book on the Phogats.
The book "Akhada: The Authorized Biography of Mahavir Singh Phogat" tells that surprisingly Geeta's mother Daya Kaur and not her father Mahavir was disappointed when she learnt that her first child was a girl.
Coached by her father, Geeta wrote her name in the record books as she became India's woman gold medallist at the Commonwealth games prevailing over Aussie grappler Emily Bensted on October 7, 2010. That she was from Haryana, a state infamous for female foeticide, made her feat even more remarkable.
"As Mahavir stood amid the cheering crowd that day, his gaze locked in on his daughter with pride, the cold winter morning of 1988 flashed before his eyes. That was the day when he had held her in his arms and emphatically proclaimed one day she will make her family proud," says the book.
"It was not so much a declaration made by a father overwhelmed at the birth of his firstborn as the solemn promise of a man torn apart by his family's contempt towards his newborn because she was a girl," says the book written by Hindustan Times journalist Saurabh Duggal.
"One can perhaps imagine the state of Mahavir's mind as the father of a daughter in the late 80s, when girls were considered a liability. But, ironically, it was not Mahavir but his wife, Daya Kaur, who was hoping that their first child would be a boy," writes Duggal.
"When the baby was born, the chill of the winter morning stung a little more fiercely as Daya realised that their firstborn was a girl. Her disappointment showed clearly on her face," the book says.
"I have introduced the girls to wrestling with the aim of winning an Olympic gold for the country and until that happens, my mission will not be accomplished," says Mahavir Singh Phogat.
(With PTI inputs)
Close Story
Personalise your news feed. Follow trending topics