Naman Dawar takes lead at Delhi-NCR Open with course record in Noida
Naman Dawar's eight-under 64, a course record at the Noida Golf Course, saw him take a one-stroke lead over Karandeep Kochhar after Day One of the Delhi-NCR Open on Tuesday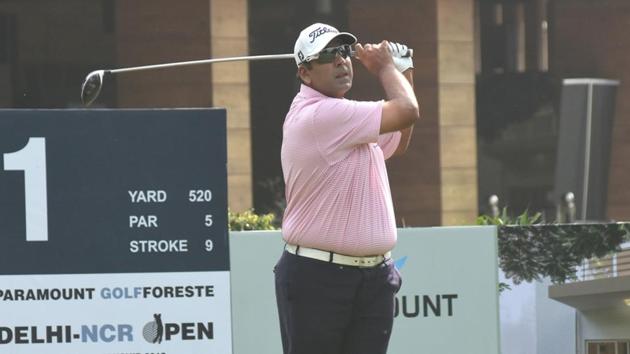 Updated on Apr 17, 2018 08:21 PM IST
It was love of golf that prevented Naman Dawar from quitting when a wrist injury in 2010 put him out for almost two years. He was at his peak, coming close to a breakthrough win on the Professional Golf Tour of India twice but lost out to the "superstars of Indian golf" --- SSP Chawrasia and Anirban Lahiri. Here at the Noida Golf Course, eight-under 64 and sole leader after Day One, the 38-year-old is hoping he'll get to say after the Delhi-NCR Open is done that it was worth the wait.
"I was languishing and contemplated walking away many times but I owe it to my parents," said Naman after shooting the lowest round of a pro career that commenced two decades ago. The feeling of getting back where he would like to be has been around for a while. At last week's Pune Open too he led initially before losing his way on the weekend.
READ | After derecognition, infighting bogey in Indian Golf Union
The stretched tendon on the right wrist may have prevented him from realising his potential but the journey back to the tee box broadened his horizon beyond golf, "Unsure, I explored a lot of other things", and taught him patience.
Though happy to be back, a phase followed when he held back. The fear of a flare-up made him protective towards the wrist, "for two years I did that", and led to conservative play. With time, the problem has eased and even though he visits the physiotherapist once in two weeks, the mind is freer, allowing him to attack like on Tuesday.
Six-under till the 16th was taken in the stride as he'd gone lower earlier but it was the eagle on the 17th that put pressure. Bogey free and a hole to go, all he focused on was to keep the ball in play, and sinking the putt for par led to a sigh of relief.
READ | Rags to riches: How golf bridged the wide gap for SSP Chawrasia, Shubhankar Sharma
Free of pain, he isn't out of the woods yet. The surgeon has suggested a bone graft and another prolonged absence from golf but Naman is unwilling as he's already played the waiting game.
Leaderboard
64: Naman Dawar
65: Karandeep Kochhar
68: Shankar Das, Om Prakash Chouhan, Veer Ahlawat, Mari Muthu R, Amardeep Rawat
Close Story