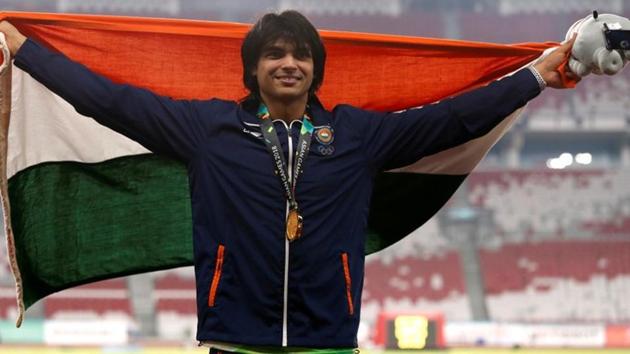 Neeraj Chopra spears his way to Tokyo Games
The 22-year-old Indian, the first from the country to win a Commonwealth Games gold in javelin, missed the entire 2019 season due to an elbow injury on his throwing arm.
UPDATED ON JAN 29, 2020 11:33 PM IST
Javelin thrower Neeraj Chopra, India's biggest hope for an Olympic medal in Track & Field, has qualified for Tokyo 2020. Chopra threw 87.86m at the Athletics Central North East meeting in Potchefstroom, South Africa on Tuesday, in what was his first competitive outing since the Asian Games in September 2018.
The 22-year-old Indian, the first from the country to win a Commonwealth Games gold in javelin, missed the entire 2019 season due to an elbow injury on his throwing arm.
If anyone had any doubts over Chopra's return and whether the Asian Games champion would be able hurl the spear to distance soon, he made a bold statement at Potchefstroom with his career's second-best throw, breaching the 85m Tokyo qualification standard by a long distance. It is also the world leading's throw this year since the outdoor season is yet to start.
A fortnight before the tournament, Chopra had spoken to Hindustan Times on his impending return, saying that he was looking to compete in South Africa, where he was training "purely for training purpose as I wouldn't go all out."
"I will now focus on training hard to compete in global competitions," he said after winning gold on Tuesday.
Low key competition
The competition was low key, with just five throwers, including two from India. Rohit Yadav,19, was the second Indian in the fray, and he finished second with a throw of 77.61m.
The event was being used by Indian athletes to build up to the Federation Cup in Patiala in April.
As it was his first competition in a long time, Chopra began on a cautious note, testing himself in the opening three throws that were all in the range of 81m-83m. "I didn't try to put too much of pressure in the beginning as I was only keen to test myself and not aiming for a big throw," he said. "But as I felt good I put little bit more effort and surpassed the 85m in the fourth round."
However, there was ambiguity whether the Potchefstroom meet was recognised by world athletics body (IAAF). Lalit Bhanot, chairman of the Athletics Federation of India (AFI), confirmed that it was, and that Chopra's has indeed qualified for the Olympics.
"The event is part of the South Africa's track and field annual calendar. Hence there is no issue," Bhanot said.
In Chopra's last major competition—the 2018 Asian Games—he had claimed gold with a national record and personal best throw of 88.06m To put that in perspective, the gold medal-winning throw at the 2016 Olympics was 90.3m, the silver 88.24m, and no one else in the finals in that event crossed 86m.
In 2019, Chopra underwent a delicate surgery on his elbow in Mumbai, and then went into rehabilitation at the Inspire Institute of Sports in Bellary, Karnataka.
He has been camping in South Africa since November and training under German biomechanics expert Klaus Bartonietz, who was appointed a year ago to support India's chief coach Uwe Hohn.
Chopra will continue to train in South Africa for the next eight weeks and will return to India in early April to compete in the Federation Cup.
Apart from Chopra, KT Irfan (20km race walk) and Avinash Sable (3000m steeplechase) have also qualified in individual Track & Field events for the Tokyo Olympics, while the 4x400m mixed relay team has also made the cut.
Close