The many hurdles before India's shooters
Archaic import rules for basic equipment such as air pistols and rifles, customs duty regulations and foreign post office rules are adding to the struggle of shooting talent in the country.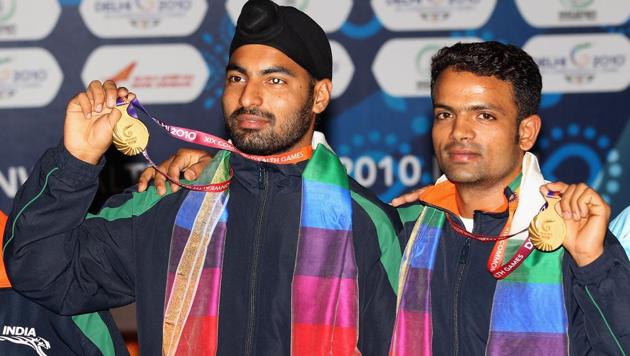 Updated on Dec 26, 2017 09:58 AM IST
Hindustan Times, New Delhi |
Ajai Masand
"It's an odd situation. Unless you're a great shooter, you cannot import a gun. But how can you be a great shooter without an imported gun?"
This quote by a top Indian shooter was made a few years ago but it still accurately sums up the dilemma faced by thousands of budding marksmen who want to follow in the footsteps of icons such as Abhinav Bindra, Rajyavardhan Singh Rathore, Gagan Narang and Vijay Kumar.
READ | Abhinav Bindra asks sports minister to relieve him from key shooting posts
More than 13 years after Rathore won India's maiden individual silver at the Athens Olympic Games, and nine years after Bindra's gold at Beijing, youngsters in droves throng the shooting ranges, but the lack of clarity on import rules regarding guns remains a big dampener.
India has archaic import rules for even basic equipment such as air pistols, air rifles and .177 calibre lead pellets.
The sports ministry has altered rules no less than a dozen times since 1993 – after import of foreign-made weapons was banned in 1986 — but the import of weapons still remains onerous. The first rule change, in 1993, was in itself flawed with only international medal winners, Arjuna awardees and top eight finishers in national championships (called renowned shots) being eligible for an import permit from the Director General Foreign Trade (DGFT).
"Why is the government so confused over the import policy? Why can't they have a single policy in the interest of the sport of shooting? Frequent changes in rules have caused confusion at banks and customs and resulted in delays affecting the training of shooters," said Shimon Sharif, who competed in the World Cup in Korea.
READ | Make weapons available by making them affordable: Vijay Kumar
IMPORT WORRIES
And even shooters eligible to import guns did not have it easy.
They had to first apply for a permit through the National Rifle Association of India (NRAI) --- the sports' governing body in the country --- which in turn forwarded their application to the ministry and finally the application was sent to the DGFT. This was the era where even air rifles and air pistols were sold for three to four times their original price.
The 'renowned shot' status was extended to the "25th rank in the national championships in 2001" but that too benefited only a minority; by then shooting as a sport had grown really big.
The then Indian rifle coach, Hungary's Laszlo Szucsak — who mentored the likes of Olympic bronze medallist Narang and initially guided Bindra — had an embarrassment of riches and restricting the pool to just 25 marksmen meant depriving hundreds of other extremely talented shooters of basic equipment.
Rathore's silver, albeit in double trap (shotgun) — a sport played with live 12 bore cartridges — was instrumental in giving events such as air pistol more fillip.
READ | Abhinav Bindra's advice: Don't host Olympics unless India win 40 gold medals
Imports of .177 calibre air rifles and air pistols by shooters registered with rifle clubs, state rifle associations and the NRAI were made free in 2005. This was a huge step and opened the gates to many youngsters across the country. The participation in 10m events at all levels skyrocketed, and in 2007 any shooter participating in the national championship was considered a "renowned shot" if he or she achieved a required qualification score. Those that met the criterion were eligible to import guns.
But red tape persisted. Even as import duty was waived off on air rifles and air pistols in 2008 for 'renowned shots' and shooters registered with rifle clubs, they could not import pellets — it cost ~300 for a box of 500 pellets — without an import licence. The same box of pellets could be procured for ~700 to ~900 in the grey market.
In 2008, after Bindra won the historic gold in 10m air rifle at Beijing, .177 calibre lead pellets were exempted from import licences. But more troubles were to come. Following a petition filed by People for Animals, the Delhi high court in May 2011 made licenses mandatory for the possession of air rifles and air pistols, quashing a 1962 government notification.
A year later, the Supreme Court stayed the high court decision. But these frequent judgments and notifications threw budding shooters off track; no one knew what documentation was required and hundreds of air rifles and air pistols got stuck in foreign post offices due to the lack of clarity and the long wait for the final judgments.
READ | India win five medals on Day 1 of Asian Airgun Shooting Championships
Shackled by paperwork and litigation, the ministry entrusted the job of giving import permits to 'renowned shooters' to the NRAI. Ammunition quota for 'renowned shooters' was increased from 15,000 rounds per year to 50,000 in 2016.
Hit by new tax regime
However, what has put air shooting to the pre-1990s era again is the new Goods and Services Tax (GST) regime.
Shooters may be rejoicing that an 18% GST has been removed from sports goods but a closer look exposes the dichotomy.
Only sportspersons of outstanding eminence have been exempted. This can be good news for national shooters but is a crushing blow for registered shooters of rifle clubs.
They will still have to pay GST — the equipment will be 18% more expensive for budding shooters who need it the most. "The GST on imported clay pigeons (used in shotgun shooting) has (also) gone up from 5 to 12% which is definitely a cause for concern," said NRAI secretary Rajiv Bhatia.
READ | Gagan Narang leads 37-member India squad for Asian 10m Rifle/Pistol Championship
As for air weapons, he said the fact that only sportspersons of outstanding eminence are exempted from GST, will impact budding shooters in a big way. "The impact might not be seen this year as we are already in the final stages of sending entries for national championship, and we expect a 10% increase in numbers. But from next year onwards, we are expecting fewer shooters. There will definitely be a slowdown… after all price of equipment has gone up substantially," said Bhatia.
Vijay Kumar, a 2012 London Olympic silver medallist in the rapid fire pistol event, was lucky as he was in the army and had access to good pistols for training. "But I kept hearing about the woes of general shooters and how they were affected. I only imported my personal pistol in 2010 when the policy was more relaxed for renowned shooters," he said.
For others, the dreams of shooting for the country is still far from the mark.
Close Story
Personalise your news feed. Follow trending topics