WrestleMania 34: Jinder Mahal, Kavita Devi create WWE history in New Orleans
While Jinder Mahal defeated Randy Orton, Bobby Roode and Rusev to win the WWE United States title, Kavita Devi became the first Indian woman to make her WWE main roster debut at WrestleMania 34 Women's Battle Royal.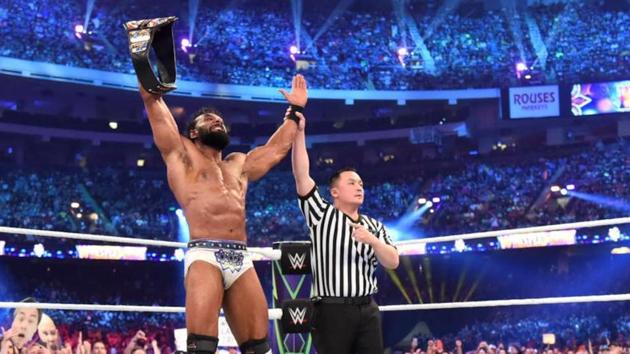 Updated on Apr 09, 2018 11:46 PM IST
It was a great day for India at WrestleMania 34 in New Orleans as Jinder Mahal won the WWE United States Championship while Kavita Devi became the first Indian female competitor to appear in the main roster when she took part in the first-ever Women's Battle Royal.
Kavita Devi, a gold medal winning power-lifter and the first Indian woman to sign with WWE, was among the NXT superstars who appeared in the Battle Royal. Dressed in her iconic salwar kameez, she produced a good performance on her debut and was able to outlast majority of her opponents.
"I am very happy that I was able to represent my country on just a great stage like Wrestlemania. This was a huge day for me and I will never forget this moment," Kavita told WWE.com after her match.
READ: WrestleMania 34: Brock Lesnar, AJ Styles retain titles; Ronda Rousey shines on debut
Jinder Mahal also continued his impressive run with the company as he became the first Indian-origin wrestler to claim the US title. He overcame the odds in a fatal four-way match to beat Randy Orton, Bobby Roode and Rusev to add another feather to his cap. This was a huge win for the wrestler who won the WWE Championship last year before losing to current champion AJ Styles in November.
Mahal delivered one of his classic promos after the win as he hailed the Indian WWE fans for their support and said that he will be 'ruling' the division after his victory in New Orleans on Sunday.
While Indian wrestlers reigned supreme at the Mercedes Benz Superdome, it was not a pleasant outing for their Japanese counterparts. Both Shinsuke Nakamura and Asuka, who made their Wrestlemania debut on Sunday, were unsuccessful in winning their respective title matches.
Shinsuke Nakamura produced a brilliant performance but it was not enough as AJ Styles retained the WWE Championship with a hard-fought win. The match was able to live up to the hype surrounding it but the post-match attack from Nakamura left the crowd stunned. Asuka was also not able to get the job done on her debut as her impressive winning streak came to an end at the hands of Charlotte Flair. The match was easily one of the best in recent times as Charlotte was barely able to retain her title.
Close Story