Pro Kabaddi League (PKL 7), U Mumba vs Puneri Paltan Highlights: U Mumba beat Puneri Paltan 33-23
Updated on Jul 28, 2019 06:42 PM IST
U Mumba's defensive trio of Fazel Atrachali, Surender Singh and Sandeep Narwal worked brilliantly in tandem in the low-scoring thriller against Puneri Paltans. All the three raiders picked up four defending points each as U Mumba started their home leg with a win. Follow Highlights of PKL 2019 clash between U Mumba and Puneri Paltan: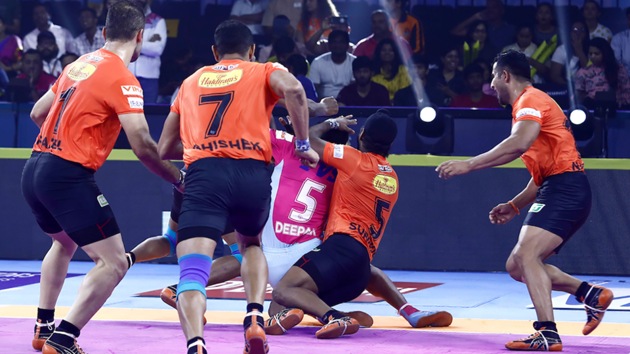 20:30 hrs IST
U Mumba win 33-23
U Mumba failed to get a successful raid in the final action of the match. But it was not enough for Puneri Paltan. U Mumba win the match 33-23.
20:17 hrs IST
Pune ALL OUT
Puneri Paltan have been all out with a brilliant defensive work from Surender Singh. Puneri Paltan 17-27 U Mumba.
20:12 hrs IST
Super Raid
Abhishek Singh completes a super raid and he covers two points. A review was taken for 3 points, but it went unsuccessful. Pune 15-21 Mumbai at the moment.
20:02 hrs IST
Second half begins
Amit Kumar goes for a do-or-die raid and he fails to get a point. Puneri Paltan are all out at the start of the second half. U Mumba extend lead up to 15-10 Puneri Paltan.
19:56 hrs IST
End of first half
U Mumba's defensive trio works beautifully in tandem to give them a two point lead of 11-9 after the first half. Fazal Atrachali, Surender Singh scored three defense points each. U Mumba 11-9 Puneri Paltan.
19:42 hrs IST
Do or Die raid
U Mumba produce a successful do or die raid which gives them two points. This is a tight contest and now, Mumbai have a point lead. U MUMBA 6-5 PUNERI PALTANS
19:30 hrs IST
Play begins
Puneri Paltan and U Mumba begin the match after a beautiful rendition of India's national anthem by Virat Kohli. Manjeet goes for the first raid for Pune. HERE WE GO!
19:25 hrs IST
Players out on the mat
U Mumba and Puneri Paltan have come out on the mat and the match is about to begin in 5 minutes. HERE WE GO!
19:00 hrs IST
Hello and welcome
Hello and welcome to our live blog on Pro Kabaddi League 2019 clash between U Mumba and Puneri Paltan. All eyes will be on Mumbai team, who will look to start their home leg in winning ways against the derby rivals Puneri Paltan.
Close Story
Personalise your news feed. Follow trending topics