At Pune lit fest, publishers say Amazon, ebooks wiping out bookstore chains
Hindustan Times, Pune |
, Pune
Prachi Bari
Sep 10, 2017 05:23 PM IST
Publishers also stressed on the fact that debut authors need to read more before writing.
Shifting Paradigms in Publishing, a panel discussion organised as a part of the ongoing Pune International Literary Festival (PILF) at Yashada, Baner, had publishers Akash Shah (Jaico), Ashok Chopra (Hay House), Trisha Bora (Juggernaut) and Vishal Soni (Vishwakarma Publishing) stressing that reading should be given priority before anyone begins to write. Moderated by Lohit Jagwani (PRH), each publisher rallied for the cause of publishing good books with Ashok Chopra stressing that printed books "are still alive".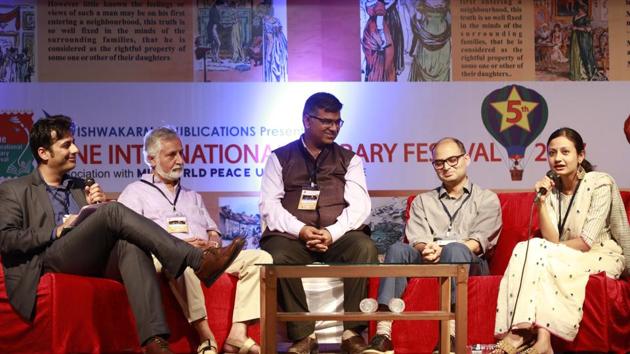 Lohit began with the history of the 1950s fragmented market until the corporates came into publishing, followed by bookstore chains. Speaking about the paradigm shift, the publishers stressed on the bookstore chains losing out to Amazon and e-books with indie stores being wiped out.
Stay tuned with breaking news on HT Channel on Facebook.
Join Now
According to Trisha, the e-medium demographic is 18 to 27 years, suggesting that young India is very curious about nonfiction with erotica coming in at second.
"This also tells us that the youth today are clued in, they need current affairs, and it will be read in print too but erotica in print will not go far but erotica on phone is a private affair and doing very well," she added.
Speaking on the regional publishing scenario, Vishal pointed out that regional languages especially Marathi is very new to be accepted online. "We will hardly see a listing on Amazon. It is found that its readers are not very tech savvy. In terms of publishers, some have even started their own websites," he said. Vishal pointed out that the way English authors get their publishers to agree to their rights, Marathi authors don't. But even then Marathi books stand fort and are the highest selling books across India, be it Vadodara, Bengaluru and even the US. Wherever a Maharashtrian has settled, he misses reading in his language.
But Akash Shah added that this can be achieved if one were to follow the fundamentals of publishing; connecting is still a human business. " We still are getting good authors and even good first time authors, these skills are people based and because of this the Indian market is very different, cannot make any comparison with foreign market, it's totally different , even small publishing houses have survived, fact remains that small is beautiful," he further added that his publishing house publishes only 30 to 40 books a year.
Ashok said that India has many debut authors but readers are not ready to accept them hence, old authors and well known ones are still in demand.
"We depend on old authors but we are all the time looking and should develop new authors. We have to give a chance to them though the rejection rate is massive in all publishing houses. Send in the manuscript and work hard on it, send when you are ready and satisfied. He added that 90 per cent of the books published have shelf life between butter and yogurt, only 10 percent have a bigger shelf life. Aspiring authors should read a lot, that is the only way to go ahead."