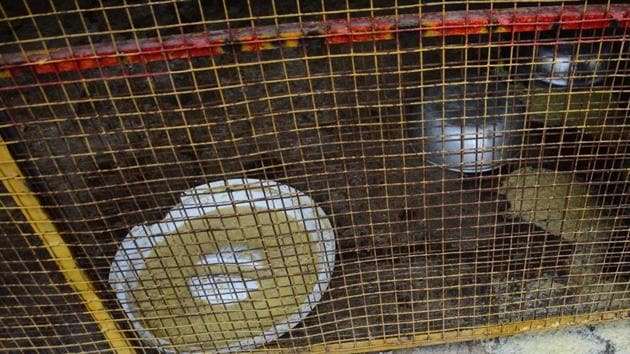 Blue Cross veterinary hospital's 'birth control' operations leave animals injured and mistreated
A stray dog (female) brought in for regular animal birth control operation died while recuperating at a veterinary hospital run by the Blue Cross society of Pune.
Hindustan Times, Pune | By Prachi Bari
, Pune
UPDATED ON JUN 07, 2018 03:17 PM IST
Recently, a stray dog (female) brought in for regular animal birth control operation died while recuperating at a veterinary hospital run by the Blue Cross society of Pune. The state animal welfare board visited the hospital on June 6 to investigate the cause of the dog's death.
Tina Malkani Gholap, an animal welfare board volunteer from Kharadi, came to know of the incident while on a regular check upon the strays that were picked up by the blue cross society dog catchers. "The dog was found dead with her intestines out, six days after the surgery, which is a clear case of negligence. The doctors did not even care to check whether the stitches had healed," said Tina.
According to Ajit Shinde, general manager of blue cross society of Pune, "The state board welfare officials came, inspected and left. It was a regular routine check-up exercise."
Dr Apurva Gujarati, the hospital's veterinary doctor who carried out surgeries last week, said, "It was a routine surgery, but the dog must have tried to jump or other dogs must have hurt her. The dog was alright for four days and we had informed the volunteers to take her away. Stray dogs are not used to confinement and tend to run away. We are sorry that the dog died, but we had taken good care of the animal given our limitations."
"According to animal welfare board rules, it is compulsory for a volunteer to be present when a dog catcher comes to round-up and catch strays from any area. Hence, I was surprised when they came unannounced on a weekday to round up as many as 32 dogs and take them in a crammed dog van for sterilisation," said Tina, who has been working for welfare of street dogs for the past seven years.
Blue cross society is sanctioned by PMC to conduct animal birth control operations, but many animal welfare board volunteers have raised questions on the upkeep of strays.
"Blue cross is incompetent and the people working there don't care about the dogs," another volunteer said. According to one of the dog catchers, they have been pressurised to catch at least 30 dogs from across Pune daily. "We are told to dump them in a van which can hold only 17 dogs. We feel sorry for them, but are helpless. We get paid only when we cross the target."
According to Laxita Shahid, a volunteer from Vimannagar, "The dog catchers do not even leave the dogs back in the same area while it is stated as a rule under Stray Dog Management Rules 2001 that it's illegal for an individual, resident welfare association or estate management to remove or relocate dogs. The dogs have to be sterilised and vaccinated and returned to the same area. Vaccinated and sterilised dogs cannot be removed by the municipality also. Indian Penal Code's Section 428 and 429 facilitates severe punishment (up to five years imprisonment) to people resorting to dislocation, abduction and acts of cruelty towards community animals or pets."
The dogs found inside the hospital are often injured or mistreated, according to Laxita. "Harming animals, or treating them with cruelty, is a punishable offence under the Constitution of India, the Indian Penal Code and the Prevention of Cruelty to Animals Act and the Environment Protection Act," she added.
.
Close