Campus Connect: Students metamorphosing startup environment
Hindustan Times, Pune |
Ananya Barua
May 25, 2018 05:00 PM IST
Harbouring the dream to start their own companies, city students, alumni reveal the risks and rewards of their career choices.
In the age of social innovation and startups, the city youth, brimming with disruptive ideas and solutions to societal problems, find themselves ready to step beyond the boxes of conventional jobs to being their own bosses and lead a team. Harbouring the dream to start their own companies, they reveal the risks and rewards of their career choices that took flight, in order to make a difference.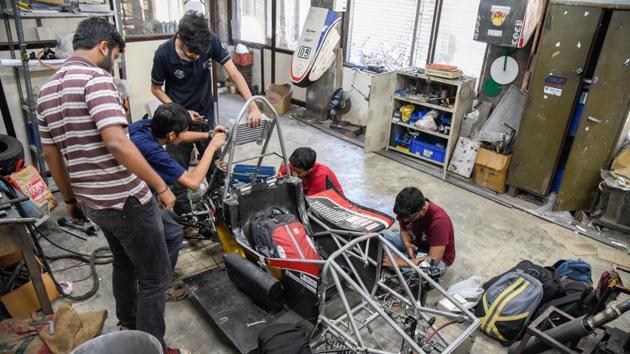 RangePlus Networks
Twenty three-year-old Shardul D Sawant of Symbiosis institute of business management (SIBM), Pune, is one of the few who took a socio-economic problem and transformed it into a technological solution, that can sustainably benefit the rural population of the country. A first-year MBA student, with a specialisation in innovation and entrepreneurship, Sawant encountered the issue of mobile and internet connectivity during his internship in remote villages of Maharashtra. Realising the potential for a sustainable innovation, he started RangePlus networks in 2017, in collaboration with Massachusetts institute of technology (MIT), and Vigyan Ashram, creating a prototype based on MIT Sloan's Fab-Fi design, which could do the exact job of a mobile signal repeater, but at a lesser cost.
"I surveyed a few villages near Khed and other parts of the state and realised that the lack of proper network range in these villages was not only stopping them from staying connected to the outer world, but was also crippling their growth. The survey also revealed that villages in the remote areas, away from highways, were in worse conditions. They had to walk to specific locations inside the house for network connectivity and same was the case in open fields. Some of the wealthy villagers purchased mobile repeaters in the price range of ₹8,000 - Rs. 35,000, which gave them better connectivity. There was no other cost effective and eco-friendly solution available for the poor farmers, or even students. So my prototype, is made using basic materials such as a wooden frame and iron mesh, needed no power to operate and can repeat mobile network signal to a distance of 10 metres," said Sawant. Currently, he is developing the model further to run on solar energy.
Zucate
Moitreyee Goswami and Roli Pandey's venture, Zucate, is another example of social innovation, where their web-based platform connects academically and economically backward students to quality educational content across all boards, to help them gain holistic education. "We are producing content in all Indian vernacular languages. We are trying to reach out to maximum students in India. The platform provides interactive sessions, webinars, and personalised preparation guidance to students. Also, we realised that many government colleges have infrastructure lying idle. Therefore, we are training teachers to utilise them well," said 32-year-old Goswami.
COEP's on-campus startup
Another social startup idea is brimming at the Delta club of college of engineering Pune (COEP), where students are creating a solar-charged e-bike, which can match the efficiency of high-end commercial bikes run on petrol, without harming the environment. One of the co-founders, Bhavesh Rathod, plans to transform it into an on-campus startup, which can benefit students as well as the society.
COEP also houses the Bhau institute of innovation, entrepreneurship and leadership, which has been incubating a number of young entrepreneurs, including Robolab technologies private limited. It began as a hub for robotics education and industrial automation to develop strategies to incorporate robotics in order to solve industrial, domestic, defence and other social issues. Closely bound to the robotics club of the college, the startup is one of the prominent startups by COEP alumni.
"Starting one's own company is always a huge risk for which one needs proper guidance, funds, long-term perspective and most importantly, the zeal to lead. Increasingly, I have seen more and more students following the startup wave that can be of great importance to them and the country as well. It's best to gain some years of experience first as an employee in the industry; build contacts and then set up a company," said 22-year-old Madhura Raut, a civil engineering graduate from COEP.
Busflix media box
However, 23-year-old Shubham Nandanwar, a 2017 graduate from MIT, believes in starting young, and launched his company, SP networking solutions LLP, in 2017 with two of his batchmates in the electronics and telecommunication engineering branch. With Bhau institute's guidance, they have created a product, Busflix media box, which provides unlimited personalised entertainment on smartphones without consuming mobile internet, while on a long bus journey. "We have tied up with more than 30 bus travel companies in the state and outside. The aim is to provide high-end travel experience to passengers, with additional features, including a stop announcement system and a feedback portal. Our initiative is not app based and users will not have to download anything, but connect to the bus' router," said Nandanwar.
Iyedo
Twenty two-year-old Shubham Deshmukh's startup brand, Iyedo, is doing more than just paving the path for his own career. A third-year computer engineering student at MIT, Deshmukh, through his company, has been providing strategic services and support to new companies on five basic fronts- legal, marketing, finance, technology and human resources (HR). Iyedo is also collaborating with the government institution, NITI Aayog, in order to introduce entrepreneurship workshops and courses in city colleges and beyond. "It's a huge responsibility to lead your own company, especially when your every action has a direct or indirect effect on the people working for you. You are accountable to them, and your career is entwined with their career. Therefore, leadership and risk-taking quality should be an integral part of you. I wanted to have that responsibility and Iyedo lets me expand this further to other companies, where we help more leaders lead their teams," said Deshmukh.