Civic body dedicates one day a week to cleaning rivers in Pune
Hindustan Times, Pune |
Prachi Bari
Nov 26, 2018 02:56 PM IST
As many as 20 organisations in Pune jointly conducted the cleanliness drive in association with Pune municipal corporation to create awareness of the depleting water body, a main source of water for many
Pune municipal corporation officials along with Mukta Tilak, mayor have decided to dedicate one day a week for an entire year for the benefit of keeping the riverbeds of Mula and Mutha clean.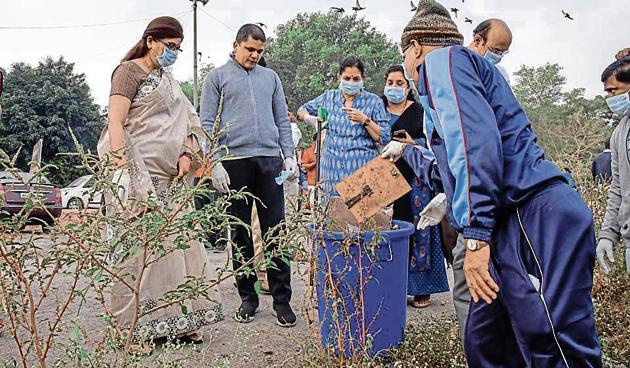 On Sunday, Tilak along with Saurabh Rao, Pune municipal commissioner participated in a clean-up drive at the Sidheshwar ghat on Mutha river, as a part of India river day.
" The idea is to have an ongoing cleanliness drive for the whole year until people realise the importance of rivers. The drive will begin with an awareness creation campaign, on the negatives of throwing garbage into the river,"said Tilak.
Rao highlighted the need for coordination between non profit and civic body to ensure awareness is created among citizens as ultimately the garbage is coming from the citizens, directly or indirectly. "PMC will be taking review meetings every 8 to 10 days and will update our plan of action according to requirement," said Rao, who was part of the clean up drive at the Siddheshwar Ghat on the Mutha river.
The PMC had carried out a cleanliness drive prior to the Ganesh festival but river is back to being dirty. "It is not a one time solution, continuous whole hearted intervention is required from PMC, citizens and NGOs. We have the equipment needed to tackle solid and liquid waste,sufficient funds, emergency provisions.We just need to synchronise the efforts. Funding will not be an issue,as in the 2018-2019 budget provision, we have made a dedicated budget for river cleaning, over all sanitation and assessment," said Rao.
As part of river clean up activity, residents, volunteers and environment lovers flocked in large number and spent around an hour cleaning. As many as 20 organisations in Pune jointly conducted the cleanliness drive in association with Pune municipal corporation (PMC) to create awareness of the depleting water body, a main source of water for many.
"Looking at the current pathetic condition of the rivers, seven NGO's from various parts of the country came together in 2014 to understand the real cause behind the pathetic situations of rivers today and come up with solutions for the same. November 28 was declared as India river day, with the agenda "to get rivers flowing naturally"," said Niranjan Upsane, founding member NGO Jeevit Nadi.
The NGOs had identified Vitthalwadi ghat, Mutha river, S M Joshi bridge, Ganesh ghat Aundh (Rajiv Gandhi bridge), Mula river, Mula-Ram river confluence, New Baner link road, Someshwar temple, Someshwarwadi, Pashan, Live water spring, near Vaidehi enclave; Bavdhan, Indrayani river - Dehu ghat, Pawana river - Kejubai Bandhara, behind Birla hospital, Thergaon, Kavdi Pat bird watching point, and Salim Ali bird sanctuary.
"We are aiming at getting the rivers water-hyacinth-free, pollution-free and start flowing naturally by 2020 and making Pune the first "garbage-free-river" city of India. We have a resolved to make the rivers sewage-free and toxin-free by the year 2025" said Sugandha Gosavi, member of Jeevit Nadi.