Day 10 of plastic ban: As Pune civic body's checking squads go easy, plastic bags quietly slip back into use
PMC fined three traders on Tuesday, down from four on Monday and eight on Sunday.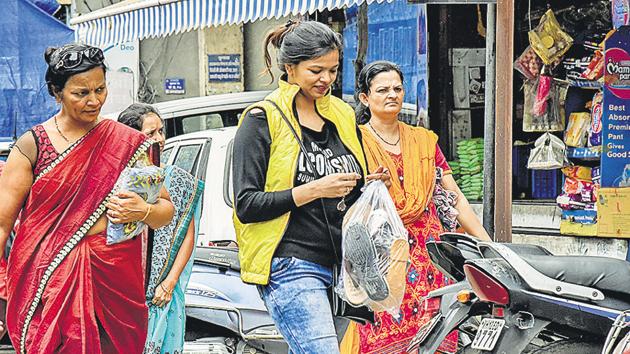 Updated on Jul 04, 2018 02:42 PM IST
Hindustan Times, Pune | By Prachi Bari
As the plastic ban imposed by the state government completes 10th day(on Tuesday), the Pune municipal corporation's action against traders and restaurant owners has relented.
The plastic bags are once again back in use, so much so that hotels have started delivering food in plastic bags covered with brown paper bags. PMC fined three traders on Tuesday, down from four on Monday and eight on Sunday. The plastic carry bags are back in business.
Pooja Gowdikar, a homemaker, was one of the persons seen carrying plastic bags. When asked, Gowdikar said, "They have become a part of our life and unknowingly we pick it up when we are leaving home."
Akshay Parandhe, 23-yearold software professional, a resident of Kothrud said, "When I asked for the remaining food to be parcelled, it was packed in plastic but had a brown paper over it. I realised it only when I reached home." Meanwhile, the officials of PMC said they are focusing on traders who are still keeping stock of plastic.
Suresh Jagtap, deputy commissioner, solid Waste Management (SWM) said, "We are continuing our raids every day and are also taking action against shop keepers who are still using plastic carry bags. We are also trying to create awareness among public through the social media. We will confiscate plastic bags if found but we are not going to fine them."
When asked about restaurant owners using plastic, Jagtap said, "If we come to know about any hotel or eatery using plastic carry bags, we will take action."
Hanumant Gole from Pimple Gurav forgot that he is not supposed to use plastic carry bag. "It slipped my mind that there is a ban on plastic carry bags. It was raining and I had office files to carry. I had to use the plastic carry bags as a cover against rain."
Anand Yalvigi, restaurateur and owner of Spring Onion said, "We have opted for using reusable and recyclable food grade plastic containers for packaging food which are a little expensive. Our delivery person uses cloth bag which he gets back after delivery."
While some roadside vendors have opted out of giving packed food, others have opted for the grocery packaging bag to pack pulav and raita.
Speaking to Jawahar Chorge, vice president, Pune hotel and restaurant association, "We have asked officials of Pune municipal corporation officials to give us some time to find alternative solutions for deliveries. We have requested them to consider the food industry just as they have considered retail food packaging industry."
Close Story