Latest from waste management
Officials from various government bodies, such as the three MCDs, DDA, Delhi government, CPCB and NHAI, among others, were present at the review by the Union ministry of housing and urban development.

Jogi Ram Jain, the standing committee chairman of the North Corporation, said that under the policy, the closed dhalao sites will now be re-utilised for creating mini public libraries, recreation halls for senior citizens and charitable dispensaries.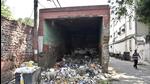 Take the case of the waste-to-energy (WTE) plant in Gurugram's Bhandwadi, in the ancient Aravalli forest... It is expected to handle waste from Gurugram and Faridabad.

In order to impart practical knowledge to students regarding agriculture and waste management, the Government Model Senior Secondary School, in Chandigarh's Dhanas has set up a herbal garden in its premises.

Innova Engineering & Fabrication aims to leverage waste generated by individuals and convert it into useful formulations for government institutions.