Drought in Maharashtra could increase farmer suicides, say experts
Government urged to treat drought as a natural disaster and amend the National Disaster Management Act, 2005 accordingly.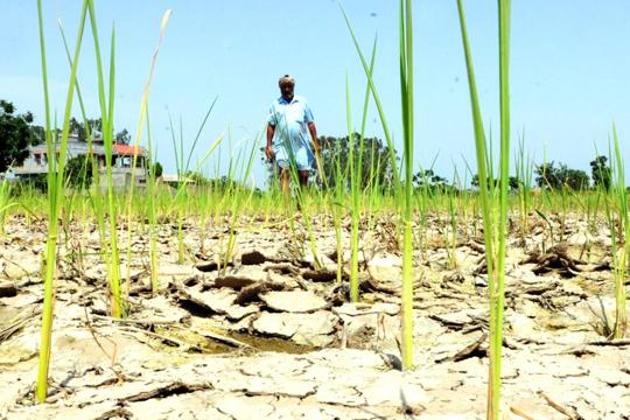 Updated on Nov 04, 2018 02:33 PM IST
Hindustan Times, Pune |
Shrinivas Deshpande
Experts from city's Gokhale Institute of Politics and Economics (GIPE) and the Maharashtra Drought Mitigation and Eradication Board have cautioned that the number of farmer suicides could rise in view of the current drought in the state. They have urged the government to be prepared for such an eventuality.
"Agricultural drought and farmer suicides have a very strong correlation and the government should be prepared to deal with the distress of farmers," professor Naresh Bodkhe from GIPE said. (HT had reported in May that farmer suicides in the state had dropped to 188 in April, as claimed by the government— lower than the monthly average of 225 to 250 in the first three months of this year.)
Bodkhe along with HM Desarda, vice-chairman of Maharashtra Drought Mitigation and Eradication Board, addressed a news conference here on Saturday on the current drought in Maharashtra which has hit 151 tehsils spread across 26 districts.
GIPE in association with the board undertook a study of 22 districts and 151 tehsils of Maharashtra and found that around six crore farmers and agricultural labourers have been badly hit by the drought this year. In the Nashik-Jalgaon region of north Maharashtra, they found that around 70 per cent of villagers had been forced to migrate in the absence of drinking water.
The scholars have suggested that drought should be treated as a national disaster on par with other natural calamities and the necessary amendment should be made in the National Disaster Management Act, 2005, to ensure timely aid from the central government.
Bodkhe and Desarda said state governments face numerous difficulties in getting timely financial assistance from the centre as drought is not treated as a national calamity. This problem will be addressed once the National Disaster Management Act, 2005 is amended to include drought, Bodkhe said.
Desarda, who is a former member of Maharashtra State Planning Board said, "We have to understand that this is not a meteorological drought but a hydrological drought because of failure of government and public policy." He said this year's droughts was far worse than the one in 1972. It is distressing that although Maharashtra has one of the largest networks of dams in the country, it has little to show in terms of water storage and distribution management, Desarda said.
As immediate relief measures, the scholars suggested that the government should list the priorities for water utilisation from available sources. The top most priority should be given to drinking and domestic use and then for cultivation of fodder crops.
They urged farmers not to grow sugarcane which consumes lot of water. Another suggestion to the government was to provide fodder at the doorstep of farmers instead of making them available at 'Chara Chavani' or fodder banks where farmers are forced to spend time with their animals instead of investing time in gainful employment.
"To grow one hectare of sugarcane, a farmer has to provide three crore litres of water. Around 1000 people can survive for year on this amount of water," Desarda said. He pointed out that this year 11.50 lakh hectares of sugarcane is being grown in the state which would consume water that could meet the needs of 110 crore people. "Now we have to decide what should be our priority," he said.
GIPE and the board have jointly organised a meeting with farmers on November 23 at GIPE, Pune to discuss drought related problems in various districts and submit a report to the government
The Maharashtra State Drought Mitigation and Eradication Board is an autonomous body which was established in 1952 by DR Gadgil, the noted economist and former vice chairman of the Planning Commission, along with socialist leaders SM Joshi and Datta Deshmukh.
The board played a critical role in coordinating between the affected people and the government and in helping formulate the government's response to the drought. It was during the 1972 drought that the board proposed the Employment Guarantee Scheme which was later implemented at the national level.
Close Story