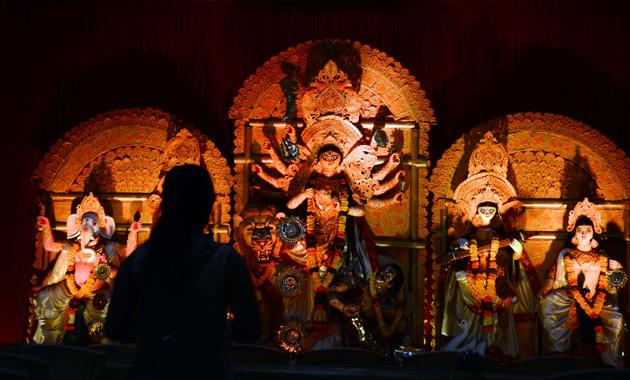 Durga Puja@ Pune: Festive mood sets with increasing number of mandaps
 This year except for Kalibari who have recreated the Dakshineshwar Kali Bari of Kolkatta, others are keeping it simple with more focus on the idol.
Hindustan Times, Pune | By Prachi Bari
UPDATED ON OCT 16, 2018 02:45 PM IST
Five more mandaps have been added to the growing list of Durga puja mandaps this year, taking the number to 40 across the city. Pune boasts of some of the oldest Durga Puja mandals like Pune Kalibari, Nandanik Sanstha, Bengali Association Pune, Congress Bhavan amongst the 40 mandaps.
This year except for Kalibari who have recreated the Dakshineshwar Kali Bari of Kolkatta, others are keeping it simple with more focus on the idol. "Durga is a popular incarnation of devi and one of main form of goddess Shakti in Hindu pantheon. Durga puja is an annual Hindu festival in the Indian sub continent that reveres the goddess Durga, where the festival epitomises the victory of good over evil," said Samar Roy Chowdhury, trustee of Pune Kalibari Samiti.
Bangiya Sanskriti Samsad (BSS), which holds the Durga Puja in Congress Bhavan is hailed as the oldest and largest cultural and charitable organization. "This is our 79th Durgostav in the premises of Congress Bhavan since the last 35 years," said Malvika Mookherjee, a member of BSS.
Nandanik Sanstha will be celebrating their 15th year of Durgotsav this year. The theme of the celebration is 'Earth Fit' - to be completely environment friendly at Rohi Villa in Koregaon Park. "Nandanik Sanstha has been a strong believer of celebrating with responsibility. We stopped using plastics couple of years back to ensure environment healthy practices. Our idol is completely eco-friendly so that we do not cause pollution in the environment post immersion," said Asis Ray, president of Nandanik Sanstha.
In Pimpri Chinchwad area, the Oikyotan Bangiya Parishad in Pimple Saudagar began in 2012, is one of the biggest puja mandaps. The committee has collaborated with various Kolkata and Pune-based restaurants for their food stalls.
"Banga Bharati, Pimpri Chinchwad is one of Pune district's oldest association of Bengalis and this year we are celebrating 33rd year of Durga Puja where we are blending tradition with a touch of modernity," said Tirtha Prasad Mukherjee, member of the trustee committee. Sticking to an eco-friendly approach, the idols have been made of clay from the ganges. Prabir Bhattacharya, president of celebration committee, Banga Bharati said, "We will be serving prasad to five thousand devotees. We believe in the concept of ' barowari sarvajanin puja' (community puja) and therefore welcome anyone who wishes to seek the blessings of the deity."
With food being integral to the celebrations, sweet makers will be coming down from Kolkata to make traditional delicacies. Devotees can relish khichuri, labra, chutney, payesh and roshogollas that will be served as prasad.
While Nagar road will see Abahan Durga puja celebrating their 5th year in Pune. This year the puja will be held at Shibanjali Mangal Karyalay where they have goddess Durga seated on Lotus Petals.
Close