Garbage dumping spot in Khadki gets a revamp, transformed into a community hub
Hindustan Times, Pune |
, Pune
Ananya Barua and Shrinivas Deshpande
Jun 25, 2018 05:17 PM IST
After continuous efforts to prevent the unauthorised dumping of garbage, which included a thorough cleaning of the spot and levying strict fines on offenders, the KCB has successfully transformed the lives of the people in the area
A few months ago, paraplegic soldier rifleman Darshan Kumar, could not have crossed Park road without covering his nose due to overwhelming stench of garbage strewn across the street. Due to illegal dumping of garbage by eateries, vendors and citizens around Aundh road and Khadki railway station, the spot emerged as one of the dirtiest areas of the Khadki Cantonment Board.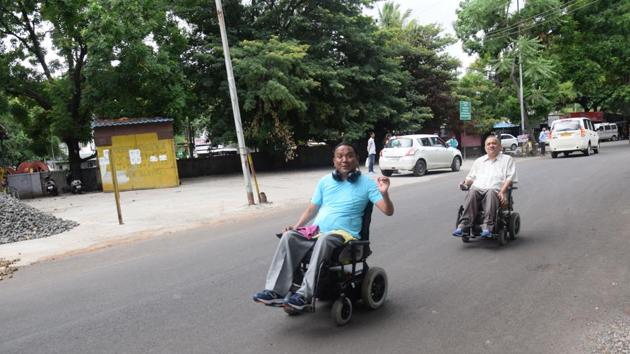 After continuous efforts to prevent the unauthorised dumping of garbage, which included a thorough cleaning of the spot and levying strict fines on offenders, the KCB has successfully transformed the lives of the people in the area. Bolstered by repeated reports by the Hindustan Times, the board cemented the entire area and erected a strict notice barring all from dumping of any sort of waste. According to residents of the area, not only has it been aesthetically revamped, but has also emerged as meeting point for the locals.
"Gone are the days when I use to dread crossing that corner of the road. People would come and dump their waste there, but after this development, the area has completely transformed. What was an unavoidable daily trouble, has now become a popular meeting point in the evening. With my friends from the paraplegic centre, we come here to enjoy a cup of tea, every evening," said Kumar, a disabled soldier from the Paraplegic Rehabilitation Centre.
Another paraplegic resident of the area, paratrooper Phurbu Rindol, added, "Our wheelchairs can't pickup speed and crossing that stretch would be an inconvenience everyday. A number of complaints had been made, but all went unnoticed until this time, fortunately. But, it is more important to maintain this now."
Residents of the area had complained that the local stalls and residents would sometimes come at night to dump their waste at the junction of the Aundh-Khadki road and Park road which leads to the Ayyappa temple, Kalibari temple and the Paraplegic Rehabilitation Centre (PRC) near the Khadki gate of the Savitribai Phule Pune University (SPPU).
"The common attitude is that if a place is already dirty, people use that open space for garbage dumping. And, that is exactly what happened with this spot. But, after the notice was put up, and the area was cleaned, more people are starting to come here to recreate, than to dump," added Nupur Mulka, a resident of the Army quarters and a human resource professional.