HT Investigation - Pune's water mafia exposed- Part II: Open theft at PMC water tanker filling points
Hindustan Times, Pune |
Team HT
May 20, 2018 02:41 PM IST
Theft of potable water by Pune's water mafia is rampant at PMC's filling stations. This water is then sold at exorbitant rates to water-starved housing societies and commercial establishments.
Investigations by Team HT have revealed the daily theft of thousands of litres of potable water from the Pune Municipal Corporation's (PMC) water tanker filling stations.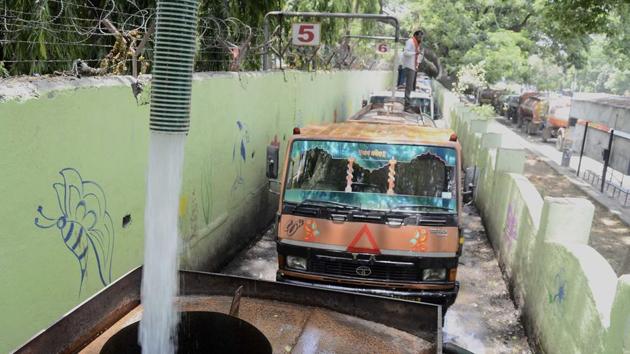 Speaking on condition of anonymity, civic officials have themselves admitted to enormous corruption and mismanagement at the water filling stations. According to one official, tanker operators manage to fill up more than one tanker on a single pass issued to them. Also, PMC is clueless about the amount of water being filled in tankers as the water metres can be easily manipulated.
A visit to PMC's Parvati water filling station by HT team early this week revealed that the water metres were switched off. These metres have a on/off switch with which the civic staff switches them on and off as they desire. The CCTV cameras were either damaged or pointing in the wrong direction.
The entries in the register of water tankers that filled water were also found to be faulty. Although 37 water tankers had filled water on May 7 between 2.30 pm to 4.20 pm, the register showed only 21 entries. There was no entry for 1.6 lakh litres of water filled by 16 tankers on that day, as verified by HT.
Shopkeepers in the vicinity of the filling station said it was open knowledge that many water tanker operators were paying regular bribes to fill their tankers without any record.
If 15 tankers were filled illegally in just a two hour span, the extent of theft of water during a 10-hour day can well be estimated. The water is then sold at exorbitant rates to water-starved areas of Pune city.
On Saturday, the CCTV cameras were readjusted in the proper direction and a water metre was installed at water outlet number three after a visit by the Saurabh Rao, Pune municipal commissioner .
PMC's water tanker filling stations
The Pune Municipal Corporation has seven water tanker filling stations located at various locations in the city. This is from where tankers, in capacities ranging from 10,000 litres to 20,000 litres, fill potable water by paying ₹497 for 10,000 litres, ₹783 (15,000 litres) and ₹1,103 for 20,000 litres.
They then head out to various water-starved parts of Pune city and provide water to housing societies, IT Parks, commercial establishments, educational complexes, malls and multiplexes. The selling rates vary from ₹1,200 per tanker of 10,000 litres to even R 5,000 to commercial establishments, which are willing to pay any amount for an assured supply.
According to Vishal Jagtap, nodal officer at PMC's water supply department, PMC maintains a list of tanker operators and issues passes for filling water tankers, with one pass being valid for only one filling.
Water tankers in contract with PMC are supposed to supply water free of charge to designated locations in outlying areas such as Sus, Pashan, Narhe, Uruli Devachi, Phursungi, Bavdhan Budruk, Lohegaon, Hadapsar and Mundhwa, among other areas. They also supply water to civic hospitals, including Kamla Nehru hospital at Mangalwar peth and Dr Naidu contagious diseases hospital, near Pune railway station, on request .
Rigging of water metres in the past
Sajag Nagrik Manch, a voluntary group of citizen activists, had raised the issue of manipulation of water metres in the past. Speaking to HT, Vivek Velankar, the group's founder, questioned the provision of an on/off switch for the water metres. "This clearly indicates that the staff deployed at the filling stations does not want to monitor and record the precise amount of water being supplied to water tankers," he said.
Having raised the issue of gross malpractices at the filling stations, it was at the instance of the Sajag Nagrik Manch that the PMC finally installed water metres and CCTV cameras at the filling stations.
Velankar, has, however, demanded that flow metres which cannot be manipulated be installed to record the precise supply of water to the tankers.
Will PMC prevent corruption?
When these irregularities were pointed out by HT to VG Kulkarni, head of PMC's water supply department, Kulkarni said that strict action would be taken against those found guilty.
"If you have any such information of malpractices, please share it with us. If anybody is found indulging in illegalities involving water tankers, we will take strong action against that person. As far as CCTV cameras and water metres are concerned, we have decided to install automatic boom barriers at every filling station to keep surveillance on water tankers at various stations," he said.
"Exciting news! Hindustan Times is now on WhatsApp Channels
Subscribe today by clicking the link and stay updated with the latest news!"
Click here!