Human chain in support of CAA, NRC formed in Pune even as protests against Act grow
Updated on Dec 22, 2019 04:28 PM IST
Two protests were held at the Jhansi Rani chowk, near Balgandharv chowk one from 4pm to 5pm and second form 5pm to 7.30pm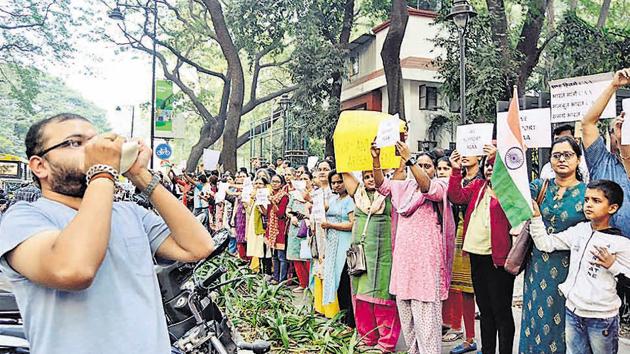 Hindustan Times, Pune |
HT Correspondent
Protests against and in support of the Citizenship Amendment Act (CAA) and National Register of Citizens (NRC) continued in the city on Saturday evening. Two protests were held at the Jhansi Rani chowk, near Balgandharv chowk, one from 4pm to 5pm and second form 5pm to 7.30pm.
At least 1,500 supporters of CAA formed a human chain on Saturday to showcase their support to the Act. After the Northeast Community Organisation of Pune finished their protest march at around 5.30pm, a few citizens who claim to have no political affiliation, gathered at the Jhansi Rani chowk, sitting on the side kata, writing slogans like 'We support CAA', 'Vande Mataram' and 'Hum Ladenge'.
Aditi Patwardhan, a student, who came to the Bal Gandharva chowk and participated in a pro-CAA protest, said, "I am an MBA student from MIT, and a resident of Nagpur. I want to tell the students to not follow others blindly and do a fact check."
The Northeast Community Organisation of Pune began their protest at 4pm where 30 people gathered at the Jhansi Rani chowk and began their silent protest holding placards opposing CAA, and walked quietly towards Deccan bus station.
Banbo Teyang, secretary, Northeast Community Organisation of Pune, said, "This Act leads to confusion concerning Assam accord signed to detect and deport illegal infiltrators. Clause 6 of the Assam accord also aims to protect, preserve and promote the cultural, social, linguistic identity and heritage of the Assamese people."
"With the implementation of CAA and the inflow of migrants into the state, the demography, culture and language of the state are under a serious threat. Thus, we demand that the central government should immediately pronounce measures to conserve the linguistic and cultural identity of the people which could be threatened by this supposed demographic change," he added.
Stuti Rai, interim-president of Northeast Community Organisation of Pune, said, "Ours is an apex body for people from all northeastern states in Pune. There has always been an influx of Bangladeshi and other immigrants in the northeast. It has turned into Hindu-Muslim issue in the country but for us, it is not that. We are trying to protect our identity and culture."
"All the states in the northeast have seen less development as compared to the states in India. If people from other countries come in, opportunities for residents of these states will reduce even further," said Rai.
Milind MahajanI, an advocate, who participated in the protest in support of the Act, said, "I feel that amendment bill is just and will bring the country together and is necessary."
"I'm a local businessman and I have no political affiliation. I'm simply standing in support of the law that I believe in. Anyone can join us," said Ram Kumar Maurya, 27, a resident of Baner, who has organised the protest in support of the Act.
The poster circulated by the group reads, "We welcome our persecuted brothers and sisters from across the borders with open arms. Let us come together and celebrate their homecoming."
The protests against CAA had erupted in the city a day after overnight violence was reported from Jamia Millia Islamia University, Delhi University and Jawaharlal Nehru University among others in Delhi. Students from Savitribai Phule Pune University (SPPU), Fergusson College, Sir Parshurambhau College, among others, had gathered to demonstrate their anger against the law.
However, the law had also found supporters in the members of Akhil Bharatiya Vidhyarthi Parishad (ABVP), the students unit of the Bharatiya Janata Party (BJP).
Personalise your news feed. Follow trending topics