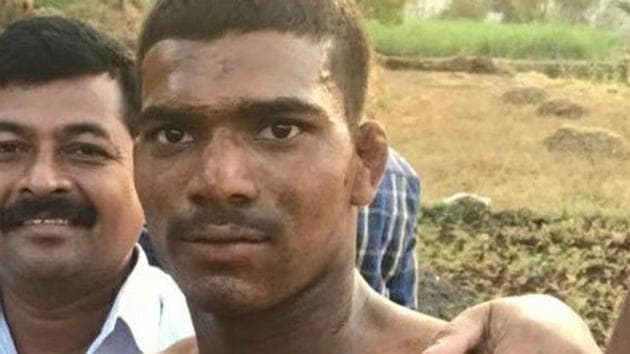 20-year-old Kolhapur wrestler dies after breaking neck in bout
Nilesh Kandurkar was trying to free himself from the grip of his opponent when he landed on his neck in full force. The impact was so powerful that he became unconscious instantaneously. 
Hindustan Times, Pune | By Ashish Phadnis
, Pune
UPDATED ON APR 06, 2018 11:07 PM IST
An emerging talented wrestler, Nilesh Kandurkar, 20, from Kolhapur, lost the fight for his life on Friday morning. Nilesh was admitted to hospital after breaking his neck during a bout in Kolhapur on Monday.
On the occasion of Jyotiba Jatra, a mud wrestling tournament was organised at Bandiwade village. Nilesh took part in the tournament and the tragic turn of events took place in the first bout itself.
According to eyewitness accounts, Nilesh's opponent grabbed him by the waist and lifted him in the air in a wrestling move known as the 'Ekchak' (throwing the opponent, who has adopted a defensive stance, over you in the opposite direction). Nilesh in trying to free himself landed on his neck. The impact was so powerful that he fell unconscious.
Not realising what had happened the opponent began celebrating and the crowd cheering. Officials then noticed that Nilesh was not moving and rushed in.
Neurology surgeon Dr Prasanna Patankar and the team of doctors that were to later attempt to save the wrestler, confirmed that Nilesh had suffered neck and spinal cord damage due to the massive impact on landing.
An ambulance was immediately called in and he was admitted to Metro Hospital in Kolhapur. As news of the severity of his injury spread, Chandrakant Patil, guardian minister of Kolhapur, arranged for the ambulance to move Nilesh to a hospital in Mumbai.
The medical team accompanying him in the ambulance, however, noticed that his heath was rapidly deteriorating and en route to Mumbai, admitted him to Krisha Hospital, Karad.
Tournament organisers have refused to reveal the name of Nilesh's opponent stating that the wrestler is in a state of shock due to the turn of events.
Nilesh hails from a family of wrestlers. His father Vitthal Kandurkar and brother Suhas, wrestled in Kolhapur. The family had high hopes for Nilesh.
"He had enormous talent and had earned fame at local tournaments. He would finish any bout in four to five minutes. He was training at the Tatyasaheb Kore wrestling complex in Warnangar for mat wrestling. This tragic accident has shattered all our dreams," said his brother Suhas.
Plans to get every wrestler insured
While the wrestling fraternity mourns the demise of Nilesh Kandurkar, the Maharashtra State Wrestling Association is going to look to get every wrestler in the state covered under insurance.
"We were already thinking about such an insurance plan for wrestlers. Our aim is to get every registered wrestler, right from the cadet category to the seniors, under insurance cover. Most of the wrestlers are from humble backgrounds and can't afford treatment and rehabilitation in case of injury. The proposal will be discussed at the next meeting of the association," Balasaheb Landge, the wrestling association secretary, said.
Close